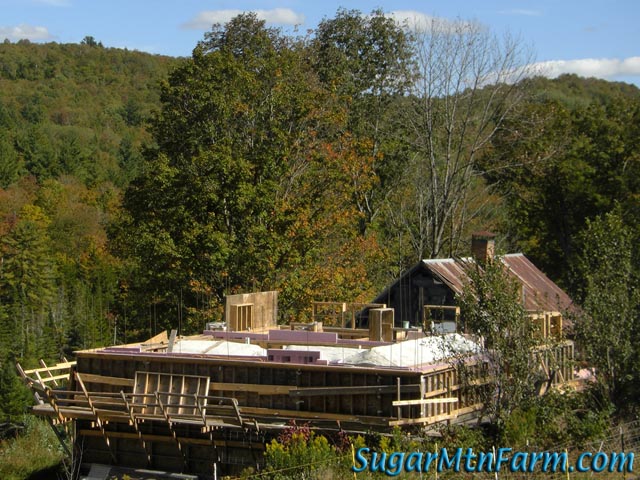 Butcher Shop Framing Up as seen from North Home Field
We're making progress on being ready for the next concrete pour. Today Ben and I finished up all of the conduit work that will end up buried in the walls. The reefer, smokehouse, warm kitchen, hall, office and bathroom came out so well with their poured in place plumbing and conduit that I couldn't resist doing it for abattoir. This means that all those nooks and crannies around pipes will be gone, non-existant, eliminated!
As we climb ever higher we build scaffolding so we can safely and easily work. That is the ring around our rooms, the wood sticking out from the formwork. Behind it you can see that the leaves have started to change color on this first day of fall.
Butcher Shop Framing Up as seen from Lower Whey Tank
This takes a lot more thinking and work now but means that in the long run our pre and post cleaning will be much easier each day we do slaughter. That saves a lot of time, work and makes the facility more sanitary which means better food safety. A few weeks extra work now for a big improvement over the decades.
All of those window frames are high up, about 12′ in the air. They will allow natural light to come into the building saving on electricity for lighting and warming the abattoir in the winter. In the summer the eave will block the sun's direct light. The reefer sections have no windows for natural light since we want to keep them cold during the summer, fall and spring.
We've been having glorious weather for construction all summer. I'm hoping it will hold through the fall so we can close in before the snows fly. So far not even frost on the pumpkins.
Outdoors: 69°F/49°F Sunny, Rain at night
Tiny Cottage: 70°F/67°F
Daily Spark: A cheap whine is just complaining.