The sort of guy that wouldn't hurt a rooster…
So there I was driving down the road with 1,054 lbs of pork hanging from my fork. Had anyone passed I'm sure they would have been surprised. Fortunately it's a quiet road with only about one car an hour and I missed that. It would have been a tight fit passing the tractor.
Today Speckles, our lead boar died. My best guess is a heart attack, heat stroke or both. Running around foolishly chasing people on a hot summer day can do that too you. I'm the coroner and doctor around here. About mid-morning he came in from the field breathing very hard and foaming at the mouth. He had been a-courting. One of the big sows was in heat. I hope he succeeded in servicing her. That will be his last litter and I would like to get one more set of piglets from him. He was an excellent boar, superb genetics. Shoulders almost two feet wide and 41″ high at the shoulder.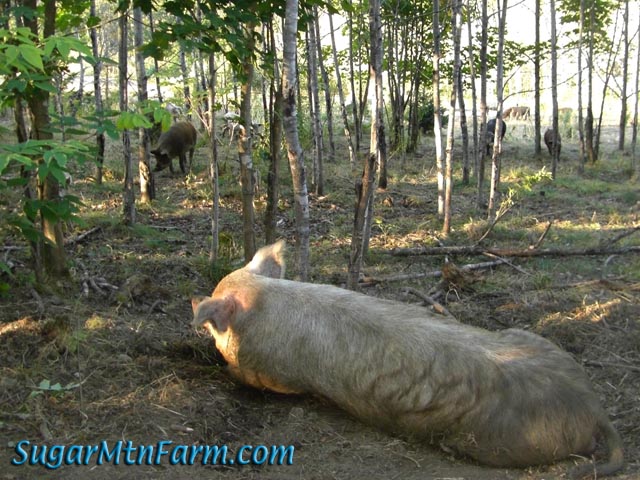 Speckles the Day Before in South Field Sapling Grove
When he came in from the field he laid down in the mud wallow by the lower whey trough to cool off, changing position several times over the next two hours. I kept checking on him but he never seemed to catch his breath. We were about to give him a butt watering to rehydrate him as I was getting concerned. Then he died just before we could start.
Speckles son of Big'Un and Angela. Born 2008, Died 2012 of a massive coronary. Survived by his sister Happy, forty wives and approximately 300 children, grand children, great grand children who remain in the family business here on Sugar Mountain Farm as well as many others went to area farms and, er, better places. Memorial service held at 4:43 pm with family, friends and co-workers attending by the compost pile. In lieu of flowers please plant clover.
Outdoors: 76°F/54°F Sunny
Tiny Cottage: 71°F/67°F
Daily Spark: As someone asked me the other day, "Do you call them pigs or hogs?" I hollered out "Piiiiiiig, pig pig pig" and hundreds of hogs came running. Some were big. Some were little. I call them pigs. What they are is another matter.