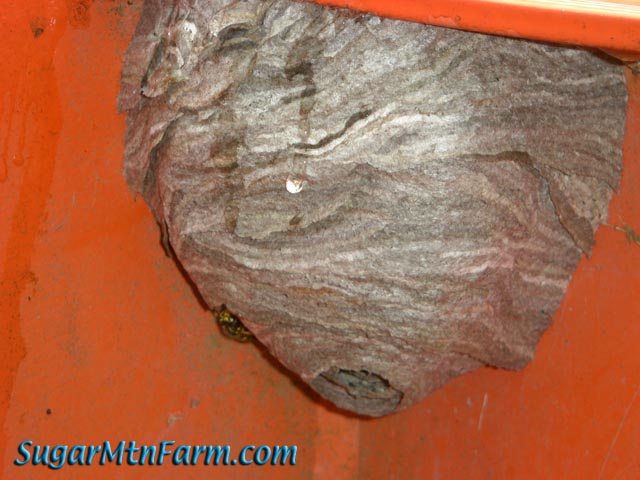 Wasps – Predators who have nothing to do with today's topic…
Carolyn Wrote:
Walter, your blog gave me real comfort. So much heart mixed in with practicality. If only all farmers were as compassionate towards these living creatures as you! I have no connection with any farming or live-stock but came to this blog because of trying to find out the "Why?" of chopping off piglet testicles (and tails) and without any anesthesia or wound-care. I've been tormented by seeing a video taken in an industrial pig shed, about signing a petition to end gestational stalls, done by change.org. I was in tears watching it, those poor piglets shrieking in unimaginable agony, and couldn't shake it from my mind for days. Reading here that it's not necessary and can actually ADD cost, makes me hope for a day it will end as common practice.

What finally sent me to sobs in that video was how they destroy the little piglets that are "not growing well" or somehow deemed unfit. The man literally held them by their feet, swung them back over this head, then slammed their heads repeatedly into the ground. Tossed them aside in a heap, while their traumatized bodies still trembled. I wanted to ask: is that common practice too? Surely there is a *kinder way to extinguish life from these "inferior" little critters than bashing their brains in like baseball bats. * I loved where you ended your blog saying that creature's deaths should be instant, clean and without seeing others killed first (because of the fear). Something that takes repeated hits, or leaves them suffering while dying, is just unconscionable, as you seem to agree.

You are a farmer "hero",Carolyn Oosterlinck
I suspect that in the near future we are going to see castration without anesthesia banned. My understanding is that some countries in Europe are already banning it and requiring that it be done by a vet. This will increase the cost dramatically which means people will look for alternatives such as breeding, feeding and managing away from taint. Best to be ahead of the curve.

I do not think that the online petitions are generally all that effective. My understanding is the politicians ignore them. So while, yes, I sign such petitions at times I do not expect them to result in much. In any case, rather than having government legislate what we do I favor seeing it market driven. Better is to vote with your pocket book, buying from farmers who produce food according to your values. This in turn will drive the industry and reward those who do good by helping them to well.
I have not seen the video of the piglets being euthanized by hitting their heads on the wall. However, and you may not like hearing this, properly done that may well be 100% humane although it is rather unappetizing. The recommended humane kill is a quick single stunning blow to the head so that the animal loses consciousness. The twitching you are seeing after that is probably involuntary nerve twitching and not suffering – hopefully the animal is already dead at that point. As the animal's blood stops flowing and breathing ceases the CO2 levels in the blood rise causing the pH to change and then muscles jerk involuntarily, thus the kicking, twitching and jerking which can be quite disturbing to see if you don't understand the physiology and chemistry of what is happening. Dr. Temple Grandin has written extensively about proper euthanizing and slaughter methods. She has set the correct standards which have been adopted by the big buyers such as MacDonald's thus forcing these humane standards into the industry through market driven demand. This show-me-the-money effect has done more than the long standing USDA regulations.
On the topic of seeing other animals' death there is research showing that animals are not disturbed by seeing another animal die but are disturbed by seeing another animal dismembered, particularly beheaded. Up until that point they may simply think of it as sleeping but when the head is missing then it becomes a wrongness.
As to the destruction of 'inferior piglets' I do think that is most unfortunate. It sounds like this is in an industrial factory concentrated animal feeding operation (CAFO) where they do not have the margins or tolerance to deal with anything out of the ordinary, everything must maximize profits. This is one of the many problems with CAFOs. I feel fortunate to not be in that situation – That is by design since I had the misfortune to see my cousin's CAFO up close and personal as a child. I vowed never to journey down that road. Here on our farm if an animal is growing more slowly or benefits from additional care we are able to hold it back or otherwise give it what it needs to continue life.
In the end, yes, all the animals go to market, however in there time here on Earth in our care I want them to live good lives. Ultimately that is what all of us hope for in our time.
Outdoors: 76°F/56°F Sunny
Tiny Cottage: 69°F/67°F
Daily Spark: All play and no work makes Jack and Jill very dull indeed.