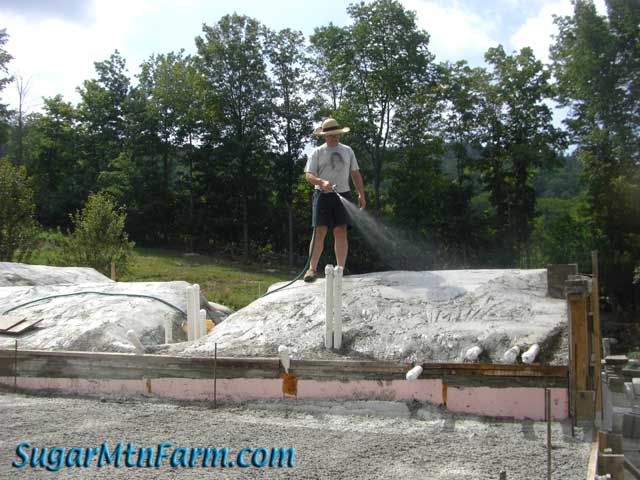 Walter Waters Walls
Actually, rather than walls I'm watering the ceilings, the catenary arches over the cool kitchen, cutting room and chiller as well as the top slab above the triple arch of the administration and smokehouse section which we poured
Monday
. But let's not be picky and who's to say where an arch changes from wall to ceiling!

One of the big jobs after doing a concrete pour is keeping the concrete moist so it cures properly. A miss-understanding about concrete is that it dries. It shouldn't. It needs to stay moist so that it chemically cures. This is an exothermic reaction which was very noticeable inside the hallway and office the first night.
This week we have been breaking down the bracing and forms from the last pour, building more scaffolding and are now setting up the new footer beams to hold the next level of forms for the coming pour of the ring beam.
The big project we did Monday afternoon after finishing the pour has to do with the water I'm spraying on the concrete. I still need to write up that adventure. It was a pleasingly perfect pipe pull.
Outdoors: 84°F/64°F Sunny
Tiny Cottage: 77°F/68°F
Daily Spark: The Darwin Award Winner found his culling.