Ben with New Launcher
People driving by are undoubtedly wondering what those crazy Jeffries are up to! I've been told this a number of times over the years. The most recent puzzle is that Will built this launcher in the driveway. Think of it as our way to entertain the town.
Another View, Another Clue
Is it a missile sighting device?
A
catapult
?
A
trubechet
?
A
windlass
?
Something else all together?
You'll notice it is portable. Will built it up on pallets so we can get it properly positioned, move it up the mountain for higher altitude attacks, er, I mean usage.
In the background behind Ben you can see another one. Perhaps it is a catch and release toss mechanism for politicians during the upcoming election. They come to our gate, we sling them the one mile further up the road to the neighbor's lawn and that will save gasoline for driving. Everyone should have a politician tosser.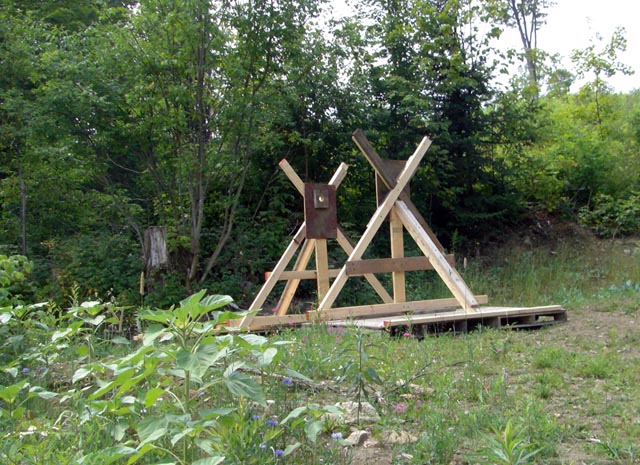 Launcher Higher on Mountain and Ready for Payload
Here we have the device parts moved further up the mountain. It's a pair of mobile platforms so they can be moved independently to strategic locations as needed to defend the
castle
.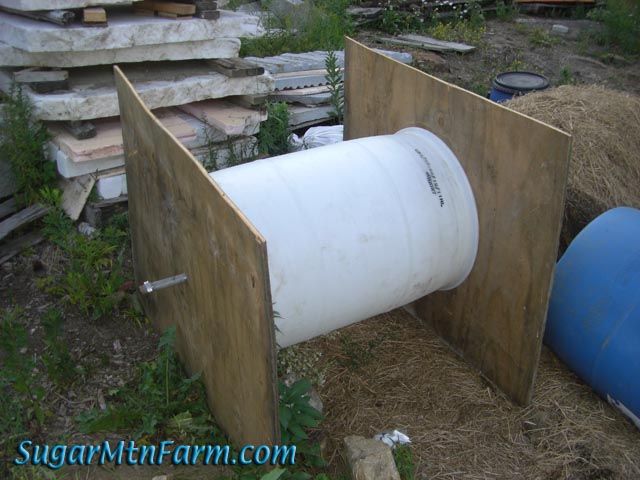 Another Hint Based on an Earlier Prototype
We did a small scale mockup the beginning of July. As another hint I'll tell you that it has something to do with the construction of the butcher shop. Really. Truly… No joke!
Outdoors: 84°F/63°F Sunny
Tiny Cottage: 76°F/68°F
Daily Spark: All those who believe in psycho-kinesis, raise my hand. -Steven Wright