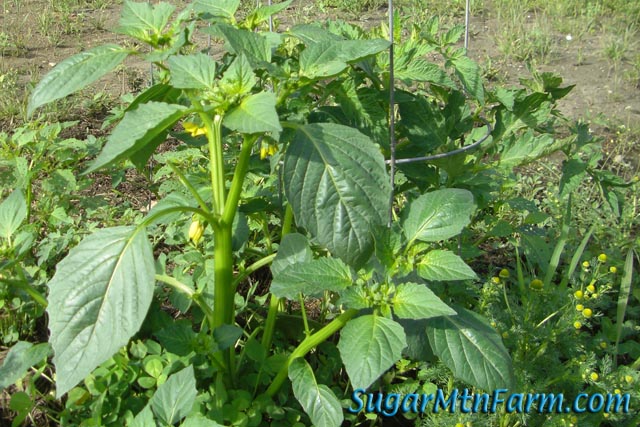 Volunteer Tomatillos on South Field Plateau
As a result of
this post
Jeff R.
asked
:
Do you mind sharing your thoughts on the economics of feeding whey? I'm curious how you were able to get the creamery to deliver to your farm and the amount of infrastructure needed for whey holding and delivery. I was just researching a creamery in Seattle that apparently drains their whey into the city sewer!
We live just over the mountain from the creamery that provides the whey. They must get rid of the whey somehow, some way. They can't put it in the landfill or the sewer system. If they spill into the sewer even accidentally they could get fines by the town and state. Feeding it to animals is what the state government most highly recommends. The other option, which some places do, is spreading it on fields, but that is much less desirable from the Agency of Natural Resources point of view as it can cause water quality problems. Spreading it on the fields has caused serious trouble with the neighbors for one creamery.

Delivering it to us is the cheapest way for them to get rid of it And, it's a good green marketing angle too since we're reusing the material and keeping it out of the waste stream. Thus bringing it here, a very short distance, is a win-win-win. If it was a long distance the economics would change.
The whey comes to us in an 1,800 gallon stainless steel tanker truck about every day or other day. Sometimes it will be three days (rare) and occasionally twice in the same day.
Roads in the winter are a big concern. Although we live on a back dirt road it is well maintained by the town. The climb up the mountain from the south is longer and gradual so in the winter he comes that way many times to avoid the steep slopes up and over the pass to the north along the shorter route.
For infra-structure here, we built a driveway to their specifications at a cost of about $15,000 that climbs about 500′ up the mountain in our farm to let everything gravity feed. This way they don't need to have a pump on their truck and we don't need to have any pumps here on the farm. Pumps are a big problem in our cold climate, they freeze up, break or simply don't run if there is a power outage as is often the case in the winter.
We have three 1,025 gallon poly-tanks set along the whey driveway. Tanks and troughs cost about $1/gallon generally with some economy of scale. Thus bigger tanks are cheaper per gallon of storage capacity. As long as the tanks are treated gently they seem to last a long time, greater than a decade easily.
When he comes over the mountains the sharp eared dogs call out "Whey Truck!" and one of us goes to meet him. Ben is generally first on whey right now although this has shifted over the years. Who ever is nearest generally gets things going.
The milk truck parks next to the tanks and we offload it with a 2″ hose. Two of the tanks are together in a pair so the driver can dump a whole load to them quickly. Add the two 300 gallon troughs right at those tanks and there is about 2,625 gallons of capacity right there. The third tank is higher up the mountain for excess when he's bringing it faster than we can use it. They also have some reserve capacity at the creamery for when the whey is coming off faster than the truck can deliver it.
The tanks feed several 300 gallon rubber troughs. These are cattle waterers which are set into the ground because they're too tall for pigs who have shorter legs than most cows, excepting the big boars like Speckles, Spot, Big'Un and Archimedes who are as tall as small cattle.
We also have some 100 gallon and 50 gallon rubber troughs as well as several bathtubs which are about 60 gallons each and we use some cut down 65 gallon plastic drums for small pigs. We put rocks in the troughs so the pigs can easily climb out if they get in. The rocks take a bit away from the volume of the troughs. This gives a total capacity of around 4,000 gallons which allows us to take a double delivery with ease incase the driver comes twice in a day. A full truck load is 1,800 gallons with the primary truck they use. That is coincidentally the amount the pigs drink in a day.
For piping we like the 2″ diameter pipes or even 4″ diameter pipes. Smaller 1″ diameter works but clogs too easily if there are solids. Our valves are 2″.
Speaking of solids, don't let melted butter get put in your tank. It cools, solidifies and gums up the works taking up capacity. Then you'll have the delightful task of cleaning it out with either hot water or a big knife. The fun never ends!
The valves are an ongoing expense because they wear out or break at the rate of one or two a year and are fairly expensive. Winter is not kind to them. Stainless steel valves seem like a good idea but they conduct the cold in too fast. Brass valves wear out faster and also conduct the cold in. Do not even think of using plain steel or cast iron valves as they'll corrode very quickly in addition to the heat conduction problem. Plastic valves kept insulated and heat taped seem to be best and they cost about 1/4 as much. Just be very careful not to force the valve when it is frozen. See this post about unfreezing valves.
We insulate and snowbank the tanks to keep them warm in the winter, built concrete and stone pads for the tanks to sit on and put heat tape on the valves – other expenses over the years. That's a couple of thousand for that infrastructure. In a hot climate you might want to shade the tanks to keep them cooler.
The biggest ongoing expense is the maintenance of the driveway. I spend about $1,000 or so a year on additional crushed stone to continue improving the driveway, sometimes a load of larger granite, buy a couple of big dump truck loads of sharp sand ($500) for keeping the driveway drivable and plowed with the tractor ($1,000 in diesel + time + tractor). Maintaining the driveway for the milk truck is my second biggest tractor work in the winter after putting out hay bales for the livestock – problem is it generally has to be done in the worst weather. Be sure to have chains, a wide stance and good mittens. Some days a face mask and goggles are required. I plow with a bucket as that means I don't have to have one more big-iron tool (snow blower or plow blade). Using a truck to plow might be faster but it kills trucks. The tractor is slow, steady, powerful and more versatile. Remember, momentum is not your friend on the mountain.
Periodically we culture the tanks with fresh yogurt. Making a batch of yogurt costs about $30 if I have to buy the milk or less if I manage to catch milk when it is a milk or cream batch coming off the truck. This improves the dairy – the 'whey' is actually a mix of milk, cream and whey depending on what is happening at the creamery. Yogurt is good for the pigs digestion and it also helps prevent mold in the tanks. Eat more Gurt!
To make yogurt we simply take a clean 30 gallon barrel or a 5 gallon pail or something, fill it will milk and blend in some live culture yogurt. Leave this in a warm place such as near the wood stove in the winter or out in the sun for a few days and it grows to form yogurt. We dump that into the tanks, ideally just before the driver delivers so it gets churned up.
I find that the pigs drink more whey if they have the troughs filled more frequently. Putting the troughs near where we walk by means we top them off many times a day. The pigs hear the sound of us call and the whey flowing and come eat. Ones who are far out in the field (up to several thousand feet away) don't but this does work with those who are closer.
Pigs drink about 20% water for the whey they drink. They drink about 3.6 gallons of whey per hundred weight per day. Realize most of that is water so they're peeing out a lot. The whey is around 5% dry matter or so – it's not consistent. This can sometimes give them the runs from so much fluid if they're not eating enough pasture or hay. See that more in the spring flush as the grasses and other forages are then also very full of water. This gives rise to the occasional Eats, Drinks, Shoots and Pees.
Speaking of peeing, the pigs often will pee and drink at the same time. This means that the area right around the whey troughs should have rock and be sloped to allow drainage. They like it if it becomes a mud hole. Different strokes for different folks. I lay in granite and pour concrete pads with extra left over from construction work. This helps keep the mud to a minimum and it has the benefit of wearing their toenails down so I don't have to trim hooves.
There is one major danger with feeding whey: salt sickness a.k.a. dehydration a.k.a. salt poisoning. Pigs are not very good at getting rid of salt. They can't sweat it out like we do. They don't tolerated it as well as the major meat eaters like our cousins the wolves and ferrets. Without sufficient fresh (non-salt) water pigs can go into a seizure caused by brain swelling. This can kill them. Always have two, count them, two, sources of water available to the pigs. Check them daily or more often. Running water is better than static. Static water does not work at all in half our year. Nipples and automatic valves clog with ice and dirt. We go with simple flowing waterers down the mountain. Susceptibility seems to vary. Be aware of this issue if you're feeding stuff that has extra salt in it. Dairy comes from milk and milk has salt plus the cheese maker or butter maker may add salt.
So why feed dairy? Because dairy is a virtually perfect complement to pasture/hay and it is often freely available. Dairy provides the lysine, a key amino-acid, and calories that boosts their diet such that the pigs will grow about as fast on pasture/hay + dairy as they do on an expensive grain based diet. The dairy gives a delicious sweet flavor to the fat and meat which our customers love.
While I don't have proof of this I have come to the conclusion from anecdotal evidence of talking with other farmers and observing our herds that it is very important that the pigs eat pasture/hay along with the dairy. This produces better digestion of both and produces better quality pork than either just milk or grain fed pigs. This means do not simply feed the pigs dairy in a pen or dry lot. The pigs also need the pasture. Managed rotational pastures are ideal and can be done in a small area.
Additionally, there is research to suggest that the pasture/hay diet increases the good, heart healthy Omega-3 Fatty Acids and CLA's as well as having more vitamin D due to the exposure to the sun out in the pasture. This makes pastured pork a healthier meat. I am doing long term lab studies done on this topic as we speak. If that turns out to be the case then not only would our pork be green because our pastures and forest soak up millions of pounds a year of carbon but our pork would also be heart healthy! Yum!
So, use up that whey, recycling it as feed to the pigs and produce great pork!
Outdoors: 84°F/63°F Sunny, Short Rain at Night
Tiny Cottage: 79°F/71°F
Daily Spark: Gravity has never let me down. I like it's dependability.