Proud Parents and Goslings
Ben announced we have new goslings! Fluffy yellow and grey puffs of peepers. One of the geese had laid five eggs down by the lower pig pond in amongst the chunks of granite I've been saving. For the past month we've been watching and waiting.
Closeup: Yes there are three!
Of the five eggs, three hatched. This is a record as we've had lots of goose eggs over the years but never any hatchings. Probably because we didn't have a male.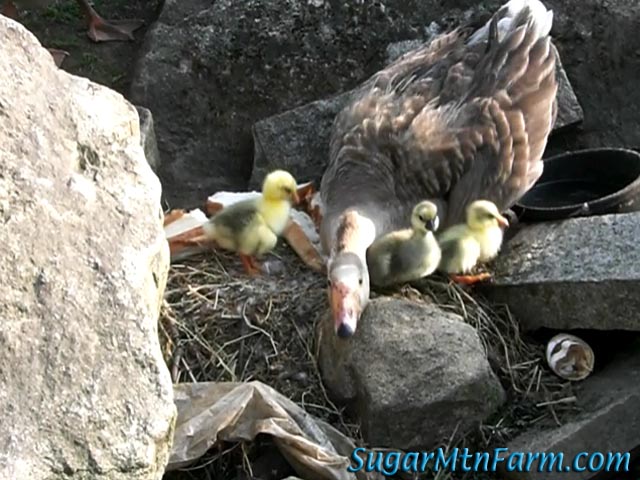 An empty egg in the lower left.
Because they were laying we knew we had several females, several geese. With a new addition last year we were hoping but not sure if we even had a male, a gander, to fertilize their eggs. In 2011, Annie our postal person gave us what she thought was a male to joint the females she had previously given us. But that that point it was too young to mate and it was too late in the season. So this is the first year we might see goslings.
Outdoors: 81°F/50°F Sunny
Tiny Cottage: 73°F/67°F
Daily Spark:
A: You Hick!
B: Thank you!