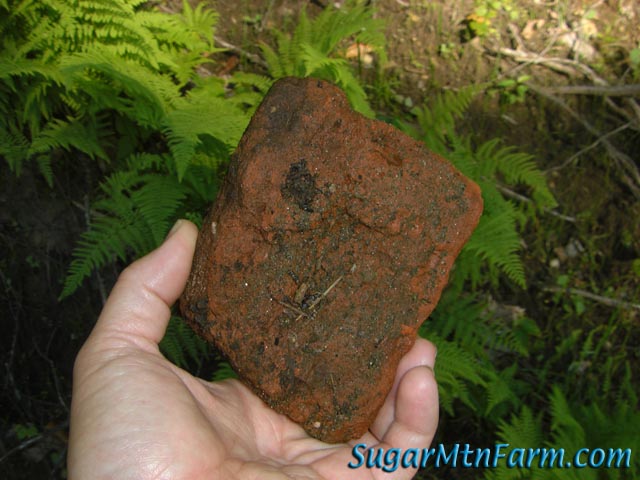 Ancient Brick
We found this partial brick high up on the mountain at the middle spring. The spring had obviously been 'developed' long, long ago, probably for one of the houses on our farm. I'm guessing about 1770 to 1850. That the spring was used was obvious from the shape of the surrounding soil being dug out, rock placements and… drum roll please… a brick!
A brick! What is a brick doing high up on the mountain?!? It's like finding a
leopard on the top of Kilamenjaro
. It just didn't belong there.
This was a sign. A sign of human activity. Someone carried that brick up there. Why? Possibly there was a house nearby, a bit downhill, close enough to be worth developing this spring yet still up high on the mountain, far from the road, long, long ago.
The land in our town, and others around here, was divided up into 100 acre lots by speculators in England and sold to gullible, er, I mean adventurous, people who had never seen it. They then set off to the new world having no idea what they had bought. Some of those lots were on prime agricultural soils with good water, trees, natural fields, etc. Most weren't. Some were marshes. Ugh. Argue with the beaver about who's planting what and lose in the long run. Others were high up on the mountain above the sources of water. Perhaps even worse.
There was jockeying around, trading of lands and consolidation. The Indians, er, Native Americans we were called, didn't live here because the land was too rough to bother with. This was bear, moose and beaver land. Cousin wolf raised deer here. Over time the settlers cleared most of the land in this region and raised sheep. Someone built a house near that spring. I've found a lot of foundations on our land and found other bricks, iron and stuff that shows where the town used to be.
Life was good in Vermont, as good as it is in the mountains during that time. That is, until the mini-ice age hit in the mid-1800's. No, it was not man-made. And it was worse than global warming. Multiple years in a row of crop failure drove people away. Most of the population moved west chasing gold and easier land. In the beginning of the 1900's our land was still open for the most part. It grew up again to forest over the past century. The houses fell down and the foundations vanished for the most part. Stone walls still show the boundaries. Arial photos show the outlines in the types of trees.
Occasionally I find a leopard up on Mt. Kilamenjaro, er, I mean a brick or iron implement on Sugar Mountain. It is a marker of a time gone by. I pause and think.
Outdoors: 72°F/48°F Sunny
Tiny Cottage: 70°F/69°F
Daily Spark: A correlation does not a causation make.