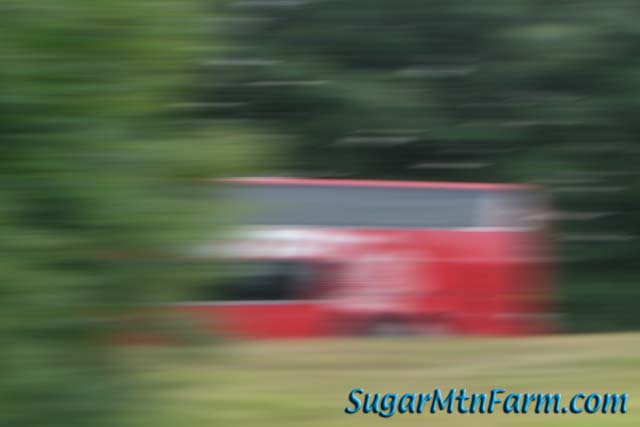 Another Blurry Photo of the Famed Double Decker Bus
Like the Yeti, Big Foot and Lock Ness Monster I just can't seem to get a good photo of this critter. We spotted it the
other day
in the rear view mirror and I got my camera ready.
It pulled into the passing lane behind us. The anticipation built. It was moving up! I was ready! Yes, this time we would capture a good photo to prove it exists! But then it crossed back over two lanes of traffic and escaped down the off ramp of I-89. Foiled again!
I snapped this picture hoping vainly that I would capture the fast moving monster as it slipped away behind the trees back to its lair. No go. Someday I'll get a good picture. It's real I tell you… They hide up in the mountains of Vermont. Double-decker busses, just waiting to prey on innocent tourists… Beware!
Outdoors: 79°F/57°F Sunny
Tiny Cottage: 75°F/70°F
Daily Spark: "One of the penalties for refusing to participate in politics is that you end up being governed by your inferiors." -Plato