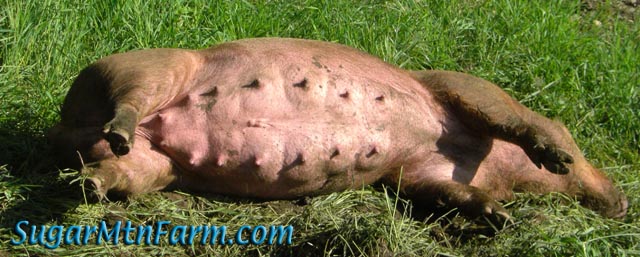 Dead to the World
Don't you hate going out in the field and finding someone head down, feet up, bloated and dead? Well fortunately she isn't. She's just pregnant and relaxing in the sun, getting a tan on her belly. She farrowed a few days later, giving birth to eight beautiful piglets, adding to the North Field's 36
new piglets
.
Sometimes though you wonder. You start to walk out to poke them with a toe and then finally they twitch an ear or crack an eye open as if to say, "Who you talkin' to?"
So grunt if you're alive!

As a point of interest, as you can see clearly in the photo above, yes, pigs have belly buttons. This photo also shows what a gilt looks like from below a few days before she's ready to farrow. You can see her breasts coning up as she bags and her teats become longer. A gilt is a female pig who has not farrowed yet. Once she has her first litter she'll be a sow. Miss vs Missus. Check out the FAQ for other fascinating porcine facts and terminology.
Outdoors: 78°F/58°F Sunny, Distant Thunder
Tiny Cottage: 76°F/67°F
Daily Spark: "Life without friends would be like a BLT without the bacon." -Iliana F.