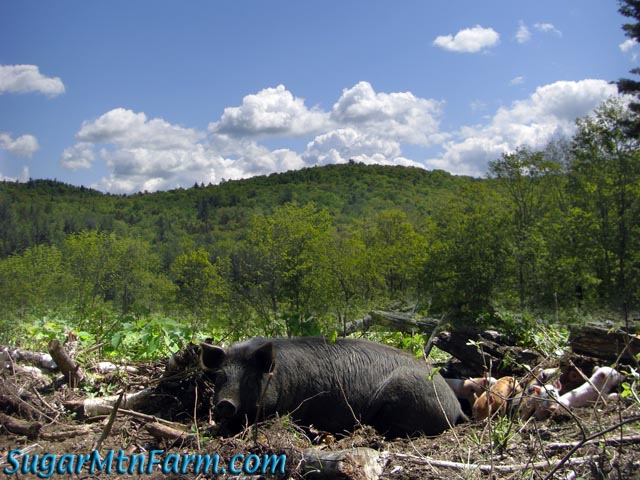 NuRed and Piglets in Far South Field
Cole Ward, with whom we
apprenticed
for 18 months to learn the art of meat cutting, is holding a pork butchering workshop Saturday, July 21st. The classes will be at the home of Bob and Vanessa Eich, 23 Chambers Road, Jefferson, New Hampshire 03253. Workshop will begin at 9 a.m. Class space is limited so register early!
Cost $80 per person which includes coffee and sandwiches for lunch. Register by calling Cole Ward at 802-881-1468 or Vanessa Eich at 603-631-5018. You can also email Cole Ward at
colethebutcher@yahoo.com
. Workshop fees must be prepayed by sending checks to C.W.Enterprize, P.O. Box 18, Johnson, Vermont 05656. Payment must be recieved no later than Friday, July 20th.
These workshops are a lot of fun and we encourage you to take photos and video. Be sure to ask questions. Cole is a most excellent teacher and a master butcher! This is a fantastic opportunity!
Also check out Cole's blog and web site at The Gourmet Butcher.
Outdoors: 78°F/54°F Sunny
Tiny Cottage: 74°F/68°F
Daily Spark: Anyone coveting a handicapped space need only shoot themselves in the foot. Me, I like to walk.