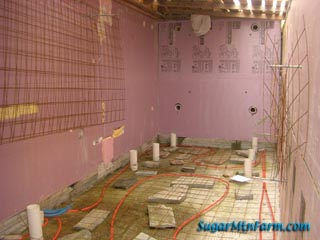 FCB PEX on Floor
These are the floor heating coils in the Freezer, Cooler, Brine (FCB) which I had mentioned installing yesterday. The idea is simply to snake around transferring heat energy so we don't get perma-frost under the freezer (-10°F to 45°F) or cooler (27°F).
Above the concrete poured over these coils will go a thick layer of insulation, varying with the room type. Above the insulation we'll pour in place high mass boxes which will be the blast freezer, super cooler and brine room, each thermally isolated from the rest of the building – bottles within bottles. The brine cure room is kept above freezing but might someday be needed as a cooler so it got a set of floor coils too. These tubes all lead to a controller box set in the wall between the cutting room and kitchen.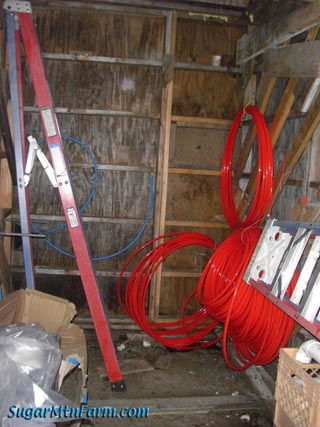 Extra PEX from FCB loops for
Chiller & Cutting Rooms
27°F might sound cold for a cooler, a refrigerator, but that is still two degrees Farenheight above the freezing temperature of meat (25°F a.k.a. -3.89°C). Because of the naturally occurring amount of salt in the meat it doesn't freeze until a bit below the freezing point of pure water (32°F). By super-chilling [1, 2, 3, 4, 5] the meat and storing it at 27°F we keep the quality higher and are able to deliver it colder to customers while still keeping it fresh and unfrozen.
The three coils hanging on the wall are measured out to go under the floor of the carcass chiller and then the final cutting room before returning to the controller box. This will cool the deep slab of these rooms without over cooling the final floor layer.
Having the rooms each at a different temperature also allows us to stage the process of freezing meat that is destined for the freezer. The last step in is the blast freezer that will pump the heat out of the meat with high winds and very low temperatures letting us create micro-crystals that mean higher quality when thawed as it reduces the puncturing of cell walls.
Outdoors: 79°F/54°F Sunny
Tiny Cottage: 72°F/67°F
Daily Spark: "May the dragon of life only roast your hot-dogs and never burn your buns!" -Anonymous.