Guy Noir – Boaring in Far South Field
This is Guy Noir, our south herd secondary boar. He's in the brush of the far south field which we
converted
from forest back in 2009. It is now filled with great regen which the pigs love. This year they're bush hogging it in sections to turn it into more mature pasture like the south field and home fields we already converted.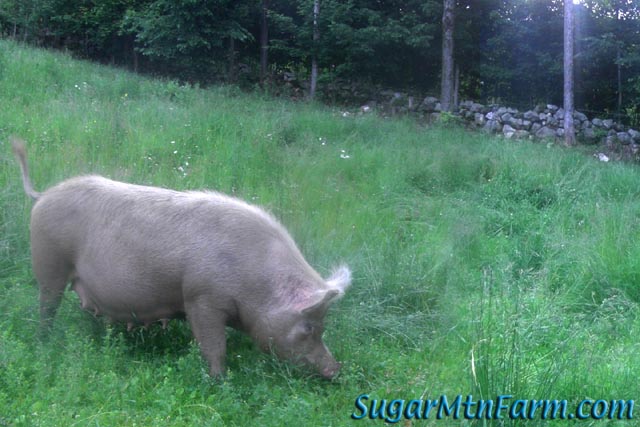 Jolie in North Home Field
Amazingly, the north home field, shown above with Jolie grazing, used to be brushy like the Far South Field. That field has never been mechanically mowed. It has just had the grazing of the pigs, sheep and chickens.
Converting using the animal power is slower than using a bulldozer but it keeps more of the organic matter and is a gentler process on the land. The animals also deposit manure on the fields to enrich the soil and clover will suck down nitrogen over the years during the process of making the fields.
Outdoors: 73°F/47°F Sunny, 1″ Rain in Evening
Tiny Cottage: 71°F/67°F
Daily Spark: Don't let your dogma get in the way or reality will it run over.