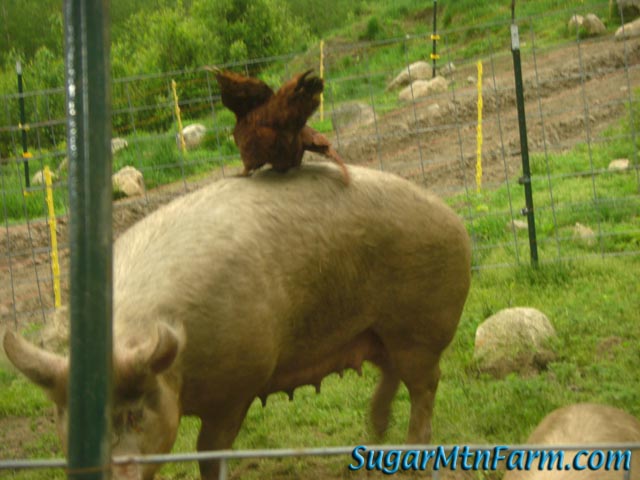 Hen on Sow
Over the years I have heard a lot of people say that pigs will kill chickens and they can't be kept together. We keep our pigs and chickens together, along with ducks and geese and in the past guineas. They do fine.
I think the reason some people have had problems with pigs killing chickens has to do with them keeping the pigs penned up. Our pigs are out on pasture. They have plenty to eat, unlimited free feed of pasture/hay and whey. The result is they're not that hungry.
Additionally, by penning the pigs people may be creating corners and tight spots where chickens can't get away from a nosey pig. Then between the pig being hungry, bored and the chicken not being able to easily get away they get chicken PgNuggets. Since our chickens can easily get away, and they're highly mobile, the pigs never learn to hunt chickens.
The good thing about keeping pigs and chickens together is the chickens clean up after the pigs, break up manure patties and eat flies. This organic pest control works wonderfully and avoids the need to resort to pesticides.
Also see: Of Tiller Pigs & Weeder Chickens
Outdoors: 70°F/47°F Partially Sunny, Some Thunder, Light Rain
Tiny Cottage: 71°F/67°F
Daily Spark: If you want the rainbow, you gotta put up with the rain. -Steven Wright