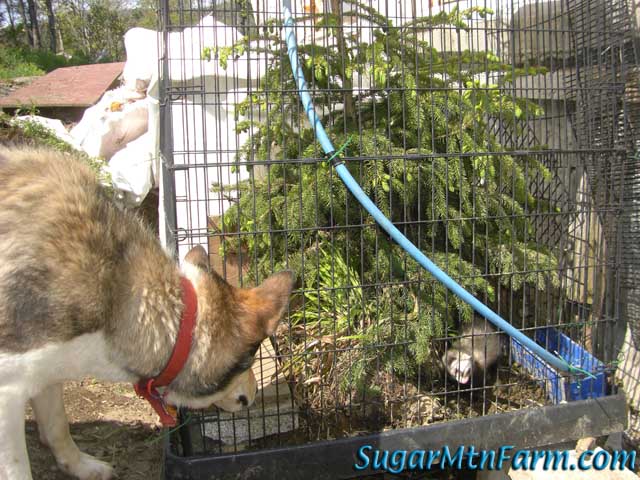 Remus Checking Out Luna's New Digs
Ben has built a new space for the pair of
ferrets
who live with us. Now, in addition to their high house in the loft and warren of tunnels that pass through our walls they have two 65 gallon barrels outdoors plus the old ferret cage where Ben has planted a tree, grasses and dirt.
The ferrets love the new setup. I think they enjoy having more to do. Especially now that it is summer and warm out. They're spending most of their time now in the outdoor spaces and coming up to the loft to sleep.
The dog's like the new out house too as they enjoy watching the ferrets. When the ferrets are indoors running round the house Hanno, Sirus, Remus and Kavi love to follow them around. Interestingly, Lili, the alpha female wants nothing to do with the ferrets. She tolerates them but has no interest. The dogs who enjoy the ferrets act like the ferrets are their pets. Remus, shown here, tells Hanno not to touch his ferrets. It doesn't come to blows, or bites, but they can be quite emphatic sometimes. Remus is very vocal and will say No and Over to Hanno when Hanno gets too close to the ferret Remus is playing with. The ferrets mostly ignore the dogs although sometimes they'll play a little, bouncing like slinkies.
The blue PEX line coming downward is a water line from a rain collector to an additional waterer. There is also a cave in the ferret house, dirt to dig in and the third barrel is setup as a compost pile for them to use as a toilet. All the comforts of 'civilization' up on the mountain.
Outdoors: 63°F/38°F Sunny
Tiny Cottage: 69°F/67°F
Daily Spark: It is a happy talent to know how to play -Ralph Waldo Emerson