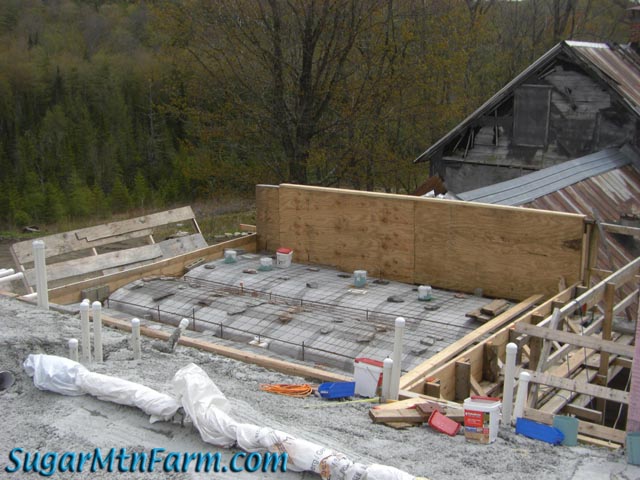 Admin Ceiling Forms
Will and Ben have been working hard on finishing up the form work that will let us do our first concrete pour of the year. This is a combination reinforced concrete and ferro-cement method I developed doing animal shelters and then used on our
cottage
. The boxed in area will cap the Administration section of the building containing the inspector's office, bathroom, laundry, entry hall and the initial meat cutting room. That meat cutting room will later be the warm kitchen and the smokehouse.
To get this photo I was standing on the peak of the barrel vaulted masonry ceiling of the north end of the chiller looking over the final cutting room catenary arched ceiling which you can see right in front of me. The arched forms for the ceilings of the initial cutting room, hall and office/bath are visible within the form work.
I have a little more conduit work to do plus a bit more internal wall forms and then we'll pour concrete ceilings soon.
Outdoors: 59°F/33°F Sunny
Tiny Cottage: 69°F/66°F
Daily Spark: "If more of us valued food and cheer above hoarded gold, it would be a much merrier world." ―J.R.R. Tolkien