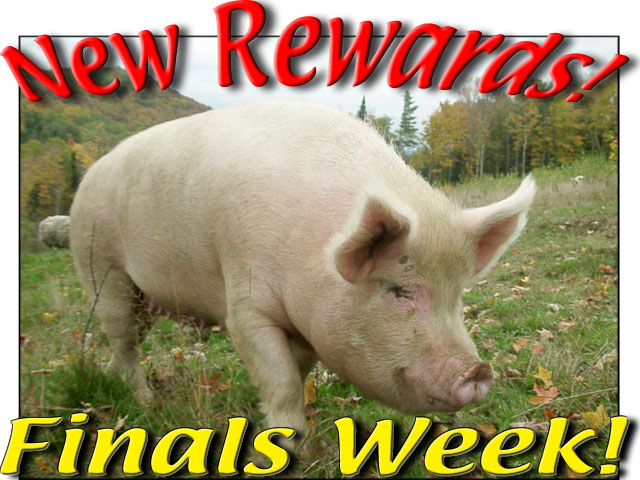 We are now in our last week of our Kickstarting the Butcher Shop at Sugar Mountain Farm. We made our initial goal of $25,000 for the butcher shop equipment thanks to all of you!
We made our second goal of an additional $5,000 for pouring the abattoir tower. Thank you, again!!
Some people have asked how high can we go? The sky's the limit. There are more goals ahead such as pouring the floors of the abattoir, the roof of the abattoir, etc. Help spread the word to as many people as possible in this last week so as to raise additional funds for the higher levels where all backers can get additional rewards added on to rewards packages such as more sausage, hot dogs, bacon and other Goodies.
Spread the Word Game:
Win: T-shirts, mugs, DVDs, books plus more meat and other goodies on rewards tiers.

Goal: Get the word out in this last week. Let's blast past a new level to help fund the next step: construction of the abattoir to bring slaughter on-farm!
The Message: Kickstart the butcher shop at Sugar Mountain Farm for pastured pigs http://smf.me Pls RT
Feel free to add to that but use at least those words and short link to get things spreading further.
Actions:
Tweet the message to followers
Bonus Credit: Follow @SugarMtnFarm
https://twitter.com/SugarMtnFarm
FaceBook write the message on your wall
Bonus Credit: Like this post, Friend & Event "Finals Week"
http://facebook.com/SugarMtnFarm
Blog the message above with some intro discussion.

Bonus Credit: link to a picture from the project so it shows on your blog – pictures attract attention and make people interested in things.

Discuss our project and mention the message in discussion lists – don't spam though.
Leave a comment on Update #41 letting me know what you did.
e.g., 1,2,3,4.
Our project ends May 15th. If we can break through to the $35,000 level then backers can get extra meat and goodies added to their rewards as show in in the chart on Update #40.
On May 16th when our project is done, I'll pick seven random winners from the commenters on Update #41: one for each day of this final week, to receive their choice of a T-shirt, mug, Sugar Mountain Farm Book, Farm Tour DVD, a small ivory pig tusk or extra meat in their meat package!
Outdoors: 57°F/46°F Deeply Misty
Tiny Cottage: 67°F/65°F
Daily Spark: Resolve is an anagram of Lovers.