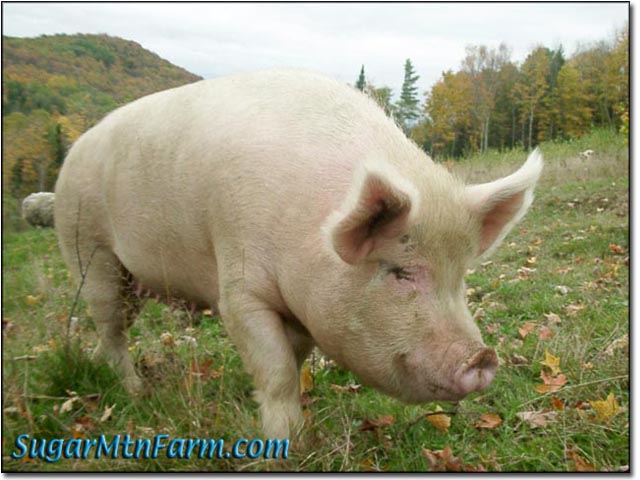 Big Pig on Pasture
Whoa! How can that be?!? Two people pushed us over the $25,000 full funding point within seconds of each other!
Me thinks they were both trying to be the $25,000 funder. What fun! What to do… I suppose the alternative would be some King Solomon solution where we split the T-shirt or make them wear it on alternate days… Hmm… No, we'll go with the two separate T-shirts solution!
So, our double T-shirt winners are Rob Banes who brought us exactly to $25,000 and Tone Heighton who pushed us over $25,000. Congratulations guys and a humongous thank you to everyone who has helped us get to our funding goal!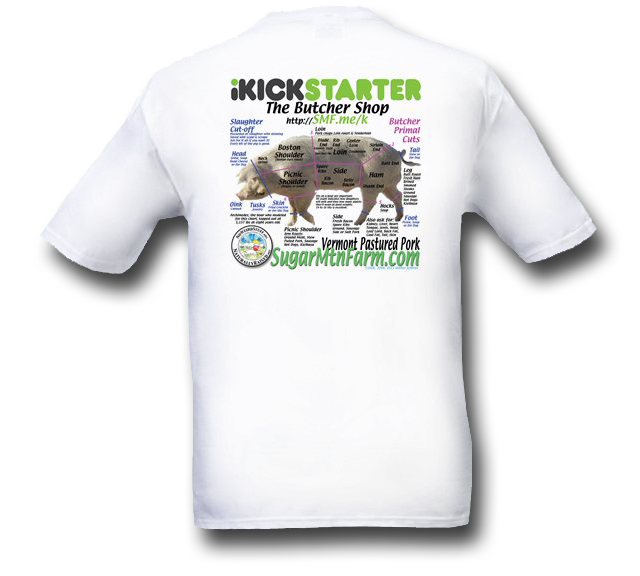 Special iKickstarter the Bucher Shop† version of the
Archimedes Pork Cut Chart T-shirt†
But wait, there's more! Remember Update #10 Game #3 of "Guess the Funded Backer Count"? Well we have a winner, who got very close, and we have a very close second place that was off by only two, but unfortunately just over. The official rules are: "guess that got it right without going over."
The funded backer count was 298 so the beautiful Big Pig Coffee Mug goes to Alan Taplow who guessed 289!
Diane Neubauer who guessed 300 was very close so I'm going to issue a special second prize which will ship with her Goodies.

And who was that gorgeous model on the coffee mug? Big Pig was one of our original four sows who we got as 15 lb piglets almost ten years ago. She is the beautiful big lady gracing the top of our project page shown in the fall on section five of our south field. She was a gentle giant at about 800 lbs. Her grand daughters, great grand daughters, great great grand daughters and beyond are grazing in our fields now.
Thank you to everyone for playing the game and most of all, thank you to everyone for backing our project.
So now that we are there, "Now what you ask?" Stay tuned…
Outdoors: 35°F/23°F Sunny
Tiny Cottage: 68°F/65°F
Daily Spark: I've always wanted to be a procrastinator but keep putting it off…
†You can get your own iKickstarter the Butcher Shop T-shirt. See this post for ordering details.