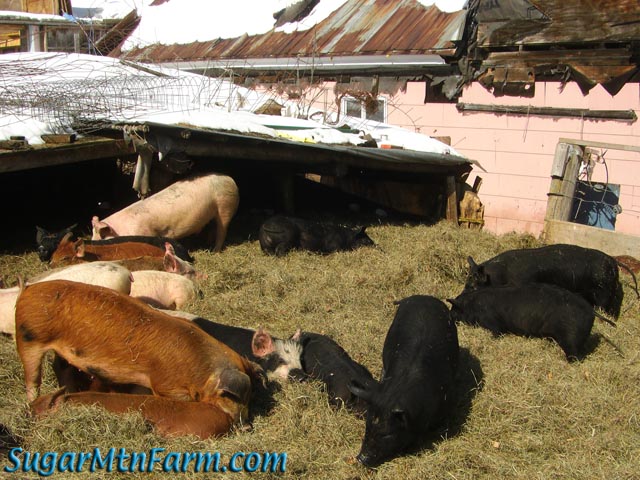 Once Upon a Cute Piglet
These weaner piglets in the garden are at that maximum cuteness stage. Everyone wants them for pet pigs. But before you consider getting a pet pig realize that in less than six months they will out weigh you. In a few years they may well weigh half a ton.
Referring to one of our boars on Seeing Spots Jeb asked:
Hey man that is one huge pig. I did not think they got that big. Is he some kind of world record holder?
Most pigs only get to 250 lbs as that is slaughter weight. They achieve that in about six months. After that their growth rate slows down so it isn't economical to feed them larger on commercial hog feeds. Pigs on a commercial corn/soy based diet also change from putting on mostly muscle to putting on more fat at that size so the gain in meat, the conversion of feed to muscle, drops.
But don't think for a minute that they'll stay small and make good pets – farm pigs eat a lot, grow big and produce accompanying large amounts of manure. In the olden days people raised pigs bigger because they weren't buying feed. A larger pig over winters better and is more able to forage for its own food, defend against predators, etc.
Breeder pigs, sows and boars like Spot, are a lot bigger than the finisher pigs destined for market after just six months. On most pig farms the breeders are in the 300 to 500 lb range and kept for about two years. They generally get 'retired' after that as it becomes too expensive to feed them – bigger animals eat more feed.
Since we feed pasture as our primary food our pigs are economical to much larger sizes so we keep them longer and they grow bigger as a result. Big animals are better grazers. They tend to stop growing around six years of age or so, typically maxing out up around 600 to 800 lbs for the sows. The boars generally top out from 1,000 to 1,500 lbs. At over 1,700 lbs Spot was on the big side. He was our longest boar for sure at about 12′ long – the end result of years of breeding for extreme length which means more bacon and pork chops.
Our current lead boar is Speckles, son of Big'Un who was a half brother of Spot- both down from Longfellow. The other day I was standing next to Speckles and realized he was starting to get pretty huge. He dwarfs all the sows, even those much older than him. He dwarfs our other two big boars, the new Berkshire Spitz and Guy Noir who is out of Blackie. They in turn makes two and a half year Hamlet, our Tamworth boar, look tiny. The latter is a breed difference with Hamlet probably only weighing 400 lbs. Speckle's father Big'Un was about three quarters of a ton – think small car or short legged bull.
Big boars like Speckles, Spot (>1,700 lbs), Big'Un (1,477 lbs), Archimedes (1,157 lbs), Basa (~900 lbs), Longson (~800 lbs) and Longfellow (1,064 lbs) are why we built our butcher shop carcass chiller ceiling 15′ high and why the abattoir will be 20′ tall. The spaces will be just barely tall enough to hang pigs this size. Someday we plan to do cattle so we'll need the height for them too.
For horses, elephants, giraffes, mastadon's and mammoth one would need an even taller facility. Hope wants to raise Wooly Mammoths and corner the paleo diet market. She's of the opinion that perhaps we can save extinct mammals by raising them for market… The fact that she doesn't have any to save is not a problem in her opinion. Ambitious she is. Just a small herd she says. A small herd of very big animals.
As to records: I doubt that Spot, our largest boar at over 1,700 lbs and 12′ hanging length, was a record holder. Doing a quick Google search found this and on Wiki I found this with several claims of very large pigs. The Wiki link lists a pig that was bigger than any of our boars. That list of pigs does suggest that both Spot and Big'un were certainly contenders for the title of "Big Pigs". Fortunately our boars are in a lot better physical condition than Ton Pig and others who are listed there. I've seen photos of some very big pigs but they were also very obese – too much corn in their diet. Our boars are naturally leaner since they lived out on pasture and get very little high calorie grain in their life plus they're constantly walking up and down the mountain. Now Speckles, our current lead boar, will have his chance at the title, who knows – maybe he'll be a record holder. He's looking more and more like his father Big'Un.
So, don't get a farm pig for a pet unless you're prepared to deal with an animal that in just a few short months will out weigh you and in a few years may outweigh your automobile and likely be able to flip it.
You also might like:
Pet Pigs
Cute Pet Pigs
Goof Ball Grin
Big'Un Tusks
Speckle's Rooster
Boar Tusk Comparison
Archimedes
Spot
Big'Un
Speckles
Guy Noir
Longson
Outdoors: 50°F/30°F Partially Sunny
Tiny Cottage: 70°F/67°F
Daily Spark: The essence of luck is persistence.