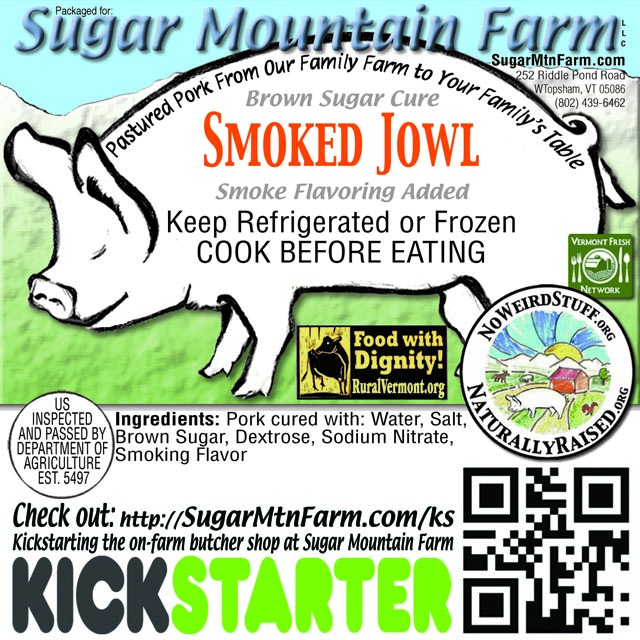 Sugar Mountain Farm Smoked Jowl
On
Saturday
I added several smoked products reward levels on our
Kickstarting the Butcher Shop
project at the request of backers. One of the questions that came up is what else is available smoked. The answer is simple, you can get any smoked pork product that we offer if you upgrade to a bacon level. It doesn't have to actually be bacon. So then the question is what are the delectable bits of smoked pork available?
Bacon – The classic belly bacon or smoked pork belly. Available as slabs or sliced.
Bacon Ends – The smaller end pieces left over when making sliced bacon. Just as delicious.
Jowl – Very much like belly bacon. Can be whole or sliced. Used in stews and chili by many chefs.
Hocks – A long slow cook delicacy.
Trotters – Pigs feet containing lots of gelatin for thickening stews and in high demand by chefs.
Ham – Whole, half and steaks. Green eggs are also available most of the year.
Boston Butt – Fantastic for pulled pork sandwiches or served as a roast.
Picnic Shoulder – Fantastic for pulled pork sandwiches or served as a roast.
Loin – Also known as Canadian Bacon, Irish Bacon or Back Bacon.
Ribs – Spare ribs smoked like bacon.
Meaty Ribs – Smoked Spare Ribs with the bacon still on. Ooo-la-la!
Everything on the pig can be smoked and in fact you can smoke whole pigs. One of the things we're planning is that our smokehouse will be able to take entire pigs from oven roasters all the way up to 200 lb roasters. This will let us produce cooked, smoked pigs for events.
If you like smoked pork you may be interested in the topic of nitrates on NoWeirdStuff.org near the bottom.
Outdoors: 52°F/37°F Rain
Tiny Cottage: 67°F/64°F
Daily Spark: Don't read everything you believe.