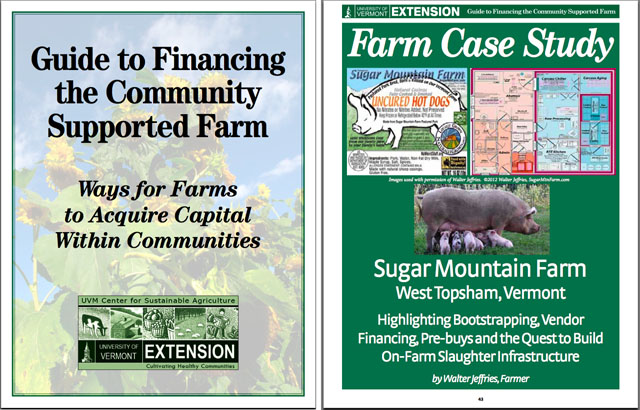 Cover and Inner Page of Financial Guide
While I was idle this year I worked on a writing project with Ben Waterman and other folks at the University of Vermont which has come out with a publication
"Guide to Financing the Community Supported Farm: Ways for Farms to Acquire Capital Within Communities"
. Yours truly is a co-author and photographer for it. I wrote about our experience with the CSA Pre-Buys which have been a big help in funding our on-farm butcher shop construction project. In addition to writing a section, I also took a lot of the photographs that are in it.
Unfortunately, the writing was all done before we did our
Kickstarting the Butcher Shop
project so that is not included in the book. At some point I'll write up my notes on Kickstarter.
Happy Easter!
Outdoors: 40°F/32°F Mostly Cloudy
Tiny Cottage: 69°F/66°F
Daily Spark: Always drink upstream from the herd.