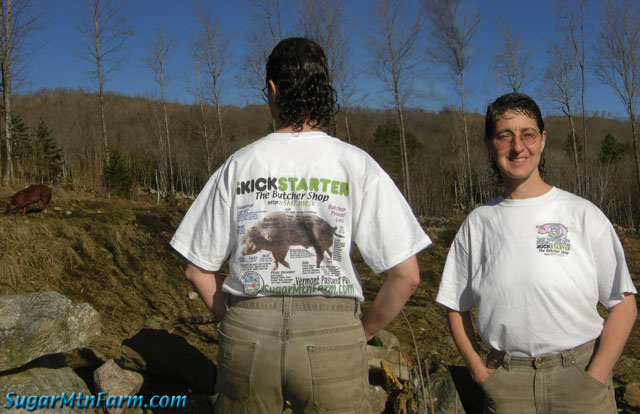 iKickstarter the Butcher Shop T-shirts – Click for Larger Image
My wives Holly and Holly are modeling the new T-shirt I designed just for Whit Carter who yesterday helped us break the
$10,000
level on our
Kickstarting the Butcher Shop
project. Well, actually everyone who has pledged to our project helped us get there, Whit was just the lucky one to unwittingly win the T-shirt in the totally unannounced contest. Gotta love fun surprises like that!
Hollies are out wearing their T-shirts to spread the word about our project both coming and going. They're hanging up
posters
as they do errands in town.
You too can be wearing one of these iKickstarter the Butcher Shop T-shirts and help spread the word. These are full color on both sides with a special big version of my Pork Cut Chart featuring our big boar Archimedes. The shirts are available at our costs of $14.65 each for sizes S, M, L and XL plus $5.85 per order to cover shipping. Add $2 for XXL sizes. This is a limited time offer just during the next three weeks. The PayPal button works well for single shirt orders.
If you prefer not using PayPal or want to order multiple shirts and save on shipping then you can mail a check with a note of how many T-shirts you would like of what sizes to:
Walter Jeffries
Sugar Mountain Farm
252 Riddle Pond Road
West Topsham, VT 05086
You get a great T-shirt with our famous Pork Cut Chart that appeared on BBC and is hanging in restaurants all over. Obviously, I would love to have you to wear these shirts all around town so that you help to spread the word about our kickstarter project. Along with each order I'll include some iKickstarter the Butcher Shop posters, business cards and stickers you can hang up and pass around. I appreciate everything you can do to spread the word of our Kickstarter project.
Speaking of which, if you haven't already done so, head on over to Kickstarter to check out our project and the video which is an eight minute tour of our farm and construction project!
Ben's Info-Graphic for Breaking the $10,000 Kickstarter Mark
In celebration of Yesterday's breaking of the $10,000 mark our son Ben made a cartoon info-graphic to show our progress. As you can tell, it's getting tempting to plant. We've got a lot of bare ground although Old Man Winter keeps giving us a dusting of snow many a night.
By the way, don't let your pigs smoke in the hay. This message brought to you by Smokey the Pig.
---
Speaking of T-shirts, Hope's Eat More Kale T-shirt is care of that defiant guy Bo who's fighting Chick-fil-a. Check out his web site and support his movie about the battle to protect his art from aggressive corporate mongers.
Outdoors: 35°F/30°F Partially Sunny
Tiny Cottage: 69°F/64°F
Daily Spark: A bad habit might just be out of style thought the nun.