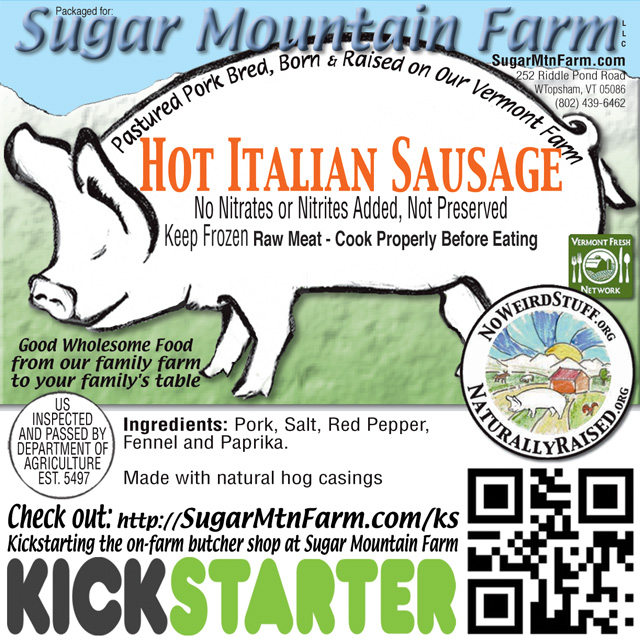 Kickstarter Meat Label In Stores Now
You'll see the new label shown above at the meat counter if you live near City Market / Onion River Coop in Burlington, Hunger Mountain Coop in Montpelier, Buffalo Coop in Hardwick, Killdeere Farmstand in Norwich or Plainfield Coop in Plainfield. This new label will hopefully spread the word about our
Kickstarter project
to customers.
You won't see the label but you can get this weeks deliveries of our pastured pork at Carpenter & Main Restaurant in Norwich, Michael's on the Hill in Waterbury and Reservoir Restaurant in Waterbury.
I have added a bunch of FAQ entries (Frequently Asked Questions) to our Kickstarting the Butcher Shop project to cover questions I've gotten (as well as some that you might have) to the bottom of our Kickstarter project page. If you have questions, go ahead and email me, use comments or send a message through the Send feature at the top of the project page.
The "Kickstarter widget" (over there –> at the top of the right hand column) shows our current progress with funding the butcher shop in this last leg of construction for getting to the point of being able to cut meat here on the farm.
Meat processing costs us about 30% to 50% of the income from each pig. Of that the meat cutting and sausage making is by far the largest cost at about $130 to $180 per pig. Thus our focus is to bring this part of the process under our own control as quickly as possible. The savings of doing this ourselves will then provide funds to help with the next phase of construction: the on-farm slaughter. Then later we'll add our own smokehouse. By dividing the project up into phases it makes it more doable both from the point of view of financing it, construction-wise and the aspect of getting each part operating smoothly before we take on a new type of processing. Baby steps.
---
Take the Farm Tour
If you haven't seen it yet, go to our Kickstarter page and check out the movie. In the video you'll get a virtual tour of our farm, seeing pigs along with ducks, chickens, geese, dogs and kids all on pasture. There's also a funny scene of Hope dancing on the construction slab and then throwing styrofoam blocks to music as she and Ben sorted the different sized insulation.
Outdoors: 70°F/63°F Sunny
Tiny Cottage: 40°F/32°F
Daily Spark: Water, taken in moderation cannot hurt anybody. – Mark Twain