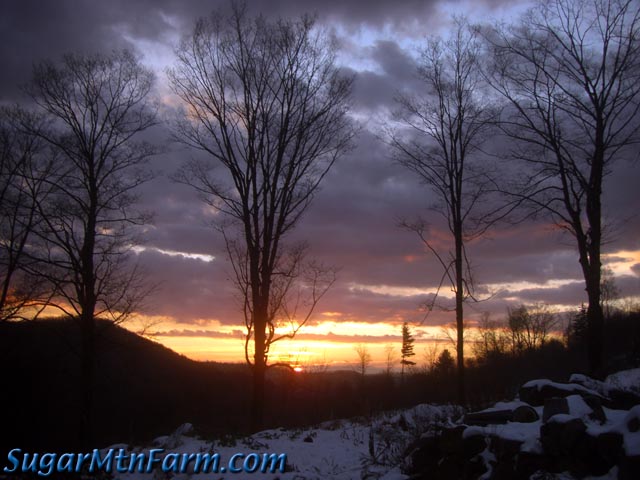 Sunrise over South Field
As the sun rose I saw we're
Kickstarted
to 24%!
Being on the south eastern slope of the mountain we see some beautiful sunrises when we're out working early in the morning. The one above is looking southward out across the south field and far south field. Such creative names. Perhaps we should call these fields David and Adeline instead. Ah, well. South field is more descriptive.

We've been enjoying this warm weather. The mild winter was a blessing for the livestock and us alike. These seem to come in cycles. Given my druthers I would much rather have a warm winter like this than the brutal one in the mid-1990's where it even snowed in July and August.
The snow has melted from our fields except in the deepest pockets of shade. This is about a month earlier than usual and the animals are enjoying going out in to their first explorations into the fields. Will has been working on tightening up fencing, a routine spring project.
Even with the snow melted we're still getting nightly snows of a quarter inch to two inches that whiten the landscape in the morning. This will go on for a while. I'm not planting gardens yet but we are doing some frost seeding.
Outdoors: 39°F/22°F 1/2″ Snow over night, Sunny
Tiny Cottage: 70°F/67°F
Daily Spark: The Tree of Life is self pruning. -Darwin Awards II