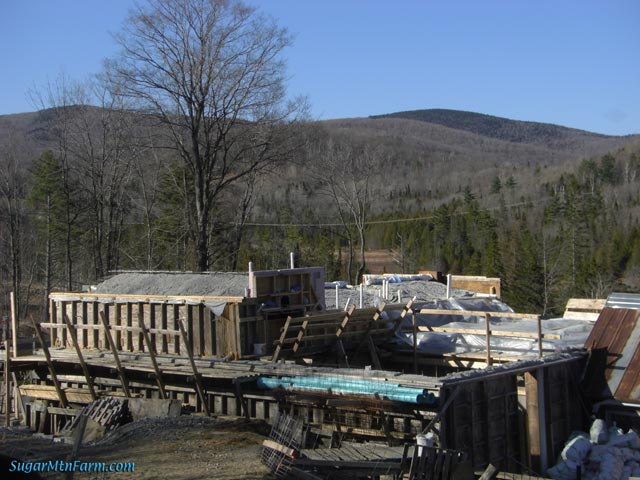 Butcher Shop Unveiled – Click for the Big Picture
Wow!
Waking up this morning and seeing so many backers was an amazing way to start the day! A big thanks to everyone who has been tweeting, sharing on Facebook and blogging about our project! Anything and everything you can do to spread the word is most appreciated! You can use the long link of the page or this short link I made which redirects to here:
http://smf.me/k
In the News
Yesterday
WCAX-TV
news reporter Judy Simpson came out to our farm and interviewed me about our Kickstarter project, toured the butcher shop construction site and her videographer Robin got lots of footage of the pigs from the little suckling piglets on Tammy (one of our Tamworth sows), Hope playing with weaner piglets in the garden and big six hundred pound sows from the south breeding herd at the whey trough. We had gotten about 2″ of snow the night before and the skies were crystal blue. Great weather for seeing the farm. The cold weather even froze the roads so mud season wasn't a problem for them getting up the mountain. The story is supposed to run Monday. Unfortunately I don't have a TV, no reception here with the mountains, but maybe they'll have it on the web too.
In other newsy news, Burlington Freepress reporter Sally Pollack interviewed me for a story in her newspaper. Not sure when that will run. It's exciting to be getting some exposure in the traditional media to spread the word!
Meanwhile Holly was on the road delivering all over Vermont. This is the first week that the meat going to stores has our new Kickstarter label on it promoting this project. It even uses a QR Code that people can use with their cell phone cameras to get to this site. Click on that link above to show the label and then see if it works with your camera. I don't have a cell phone but I did test it with Ben's iPodTouch which has a camera on it.
Being Popular
Apparently we are also showing up on the Kickstarter Food Popular page after only one day! Our eight year old daughter Hope, who's been studying other Kickstarter projects to "know how they work" as she puts it, spotted us on the Popular page bouncing around from #1 to #9 this morning. That's really exciting for that to happen so quickly. We've already had some backers (welcome!) come in via the Popular page so it is proving its worth.
Ivory and Meat
There have been questions about how to order both the MegaCoolPigStuff Big Tusk and also be able to get some meat. Unfortunately Kickstarter's reward selection system works for only one reward per backer. There are several solutions. One is you can simply create multiple accounts, maybe one for you and one for your alter-ego. Then back the project once through each account and pick a reward each time. Another simple solution is I can create combo rewards. So, I've done that. Just now I added a MegaCoolPigStuff Big Tusk and Meat reward tier. It is actually less expensive than the two separately since I can combine the shipping to save you money. This way people who don't want to order meat can order just the tusk (say if you live outside the USA where we can't ship meat) and people who want to order a tusk and meat can get that too. The meat in question is the delicious Pick of the Pig Sampler where you get to pick five pounds of whatever you would like off of our order form so enjoy!
Speaking of the weather…
The weather couldn't seem to make up its mind today. Windy with a light snow yet crystal clear blue skies. I think the cold was dropping out any moisture from the air. Maybe we were at the top of the cloud. Sometimes that happens. Notice how pure the sky is in the photo above the butcher shop.
Butcher Shop Revealed
We now have uncovered much of the butcher shop from it's winter wrap in protective construction plastic. The masonry vaults of the carcass chiller, final cutting room and the commercial kitchen are amazing. Rock solid arched ceilings. I can't wait to pull off the interior form work to reveal the ceilings. While we wait to do real construction and concrete pouring when the weather warms we'll work on getting form work prepped. We still have some ice inside the building. It will be interesting to see when that super insulated space warms enough to let the ice melt. I may have to take active measures to pump heat in. A fan at the very least. Perhaps a dragon.
Outdoors: 27°F/17°F Light Drifting Snow with Crystal Clear Blue Skies & Sunny
Tiny Cottage: 71°F/64°F Fire (It's been a long time since we did our last)
Daily Spark: Trust your instincts. -Wise Anon