Many people have suggested Kickstarter.com to me as a way to raise funds for construction of our on-farm butcher shop. In July of 2010 I submitted a project proposal to Kickstarter but they turned it down:
"Thanks for writing in and sharing your idea. Kickstarter is a platform for projects rooted in the creative arts that can offer tangible, personal rewards to an engaged community. We're not really a platform for raising funds for general business or equipment expenses. Your project falls outside of Kickstarter's scope."
However, since then things have changed. In the intervening time Kickstarter has had several projects that were very much like ours, butcher shops in fact. One of them, North Mountain Pastures by Brooks and Anna in Pennsylvania was actually inspired by our farm and our own journey to on-farm meat processing. Their project was brought to my attention by a customer of ours. Brooks and Anna are long time blog readers who I've helped with questions over the years. They wrote me:
Hi Walter, Thank you again for your support with our Kickstarter project, and for getting it out to your people. The truth is, your name has a bit of celebrity ring to it since we have been reading your blog since 2007, long before we ever had any pigs. In fact, it would not be wrong to say that your experiences and writing were what motivated us to try raising pastured pork in the first place. Also, knowing that you were building a USDA butcher shop on your farm was inspirational in us attempting a similar (though much smaller!) project. So when Brooks said "*Walter Jeffries* donated to our project!" we were so pleased and a tiny bit star struck, I hope you don't mind me saying so!…Can't wait to see the video. Best of luck, Anna
I'm delighted that our work has inspired others to do similar projects. I'm blushing a little and not so sure I want to be a celebrity. I might have to hide here, high up on the mountain. Oh, wait, that's what I already do! :)
Well, in turn, Brooks and Anna inspired me to resubmit our project to Kickstarter's staff. This time we were invited to do one and our project has been approved to launch on Friday morning, March 30th, 2012. That's when I'll press the big green "Launch" button and let our project free into the wild. When that happens I want you to be apart of it and I have a favor to ask…

If you've been following our Butcher Shop adventure you'll know that we had closed in most of our building when the snows of winter hit in late 2011. We tried to make one more pour to close the Admin section, but then ice and snow arrived. We're about 90% of the way done with the construction necessary to start cutting meat also known as cut & wrap. Although perhaps I should say cut & suck since we'll be using vacuum packaging to maximize quality by removing the air from the packaging.
This winter our first big piece of equipment arrived, the Baumann BM20S hog scalder which will allow us to dehair roaster pigs which is a big market for us. By being able to scald and scrape rather than skin we can save the head, trotters, the fat for lard and the skin for chicharones, that is to say spiced puffed pork rinds which we plan to make in the future. This will let us utilize as much of the pig as possible, nose-to-tail.
To finish construction for meat cutting we still need to pour some more concrete when the weather warms and the snows melt. Then we'll work on finishing off the interior of the initial cutting room, get a meat saw, a grinder for making sausages, a vacuum packager and refrigeration equipment.
Kickstarting the Butcher Shop at SugarMountainFarm
Our Kickstarter funding drive will go on for six weeks starting Friday, March 30th, 2012 and ending the evening of Tuesday, May 15th. Other Kickstarter project creators have told me that it is important to make a big push at the beginning so that our project might get
picked
as a
Kickstarter Staff Pick
. This will give us more exposure by putting us up on one of the front pages of the Kickstarter web site. If we get enough interest we may even get on the
Kickstarter Popular Page
as well, which will give us even more exposure.
I have a favor to ask of you:
Yes, you – everyone on the other side of this screen! Be you a a one time reader or a long time reader, a frequent or infrequent commenter or even if you never say a peep. I ask that you go visit Kickstarter.com today and become familiar with their site. It's free! It's fun! You might even see some projects you want to help make happen. Give them a dollar, or more if you like, so that you become familiar with the process. Sign up for a free account. There are a lot of fun and interesting projects happening. Check them out!
Visit Our Project When it Launches:
On Friday, Saturday, Sunday and beyond, after our Kickstarter project launches, please visit our Kickstarting the Butcher Shop at SugarMtnFarm project. (The visits during this early period help boost the popularity numbers so we will get noticed. Bring friends by telling them to visit too!) Watch our video. Enjoy the pictures from our farm. Sit in the south field surrounded by pigs. Walk the scaffold of the butcher shop. Be approached by 20,000 pounds of pork on the hoof at an amble. Read the description and check out the great rewards you can get for backing our project. There's something there for everyone from a few dollars to $10,000. Trinkets, swag, souvenirs, pig pens, tusks, mega tusks and even sausage & meat shipped to your home! We're also offering subscriptions of our delicious pastured pork for the serious carnivores. At the top of the food chain, the apex predators can get Decades of Pork. There's something for even the most gigantous of appetites.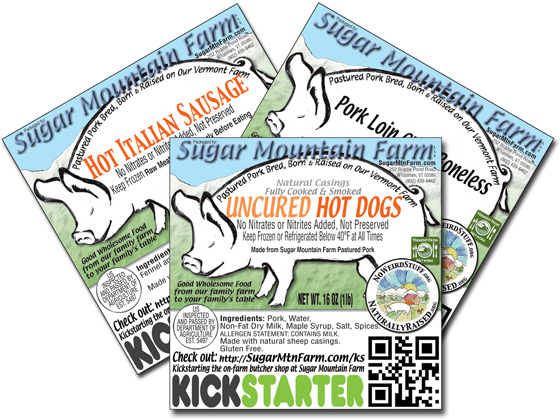 But there's more:
The biggest favor I have to ask is that you spread the word about our Kickstarter fund raising drive. You can spread the word now about this post. Then when we launch spread the word about the actual project launch on Friday morning, March 30th, 2012 when we launch. You can embed the short link http://SMF.me/ks and on Friday I will make that point to the Kickstarter project page when it goes live. Currently that link points to a place holder page. Try it, you'll like it!
Things to do to spread the word:
Tell your friends in the real face world;
Email your friends (but don't spam strangers);
Blog about it on your blog, Facebook or other web site;
Put it on your Facebook wall;
Post to relevant discussion lists;
Tweet it;
Google Buzz it;
Digg it;
Stumble Upon it;
Yahoo Buzz it;
Use the Like and other icons at the bottom of this article right now;
Post the badge on your blog (code available on the Kickstarter page after launch.);
Hang up real world paper posters on local bulletin boards – I'll design one and post it or you can make up your own using that simplified http://SMF.me/ks web link.
Pass out fliers to people in the real world – Again I'll design one in the next couple of days and post it.
Once the project goes live, use the Like and Tweet buttons on our Kickstarter page to help spread the word.
Win Great Prizes!
I appreciate and thank you in advance for everything you can do to get the message out to other people. Asking them to spread the word further. Make it go viral. The next 45 days will be a big push for us to get the word out. We're going to have guessing contests with great prizes to see who can guess how many backers and what dollar funding level we'll achieve by May 15th when the Kickstarter project ends. We'll also have prizes for the most referrals such as from blog posts. Details to be announced!
---
What is Kickstarter?
Kickstarter.com is a national web site for bringing together project creators and backers to make things happen. It's a way of backing projects you believe in. A method of raising funds to do interesting things. A means of bringing together people to make stuff happen. Kickstarting a project gives funds to creators so they can produce projects, if, and only if, the funding is fully funded by backers like you. You can pledge a dollar, $25, $100 or all the way up to $10,000. Give what you feel comfortable to the projects you want to support. In return for pledging, donars get rewards, generally in the form of that project's product and associated swag. But, money changes hands and rewards happen, if and only if the project funding drive reaches it's goal.
---
By the way, Old Man Winter had only temporarily stepped out of the room. We had lost almost all of the snow from our fields – unusually early and delightful. But he's back with a fury. We got two inches of snow while it blew and snewed all day long. I watched snow devils as large as 100′ tall and 20′ wide race across the top of the pastures. This was a friendly reminder to us not to plant our gardens too early…
Outdoors: 25°F/10°F 2″ Snow
Tiny Cottage: 68°F/65°F
Daily Spark: "You guys must spend a lot of time working with your pigs. I can tell because they are so calm and easy to handle." -David the Knocker