Curly & Mow Recovered and Leaving our Farm
The photo above is very remarkable. The fine pigs above didn't look so fine as
grower pigs
. After weaning they contracted white muscle disease. What they were specifically missing was selenium. A lack of selenium can cause the curly coat shown in the photo below and other symptoms that can lead to death.
Curly & Mow showing Classic Hair Curl of Mineral Deficiency
Our soils are rich in minerals, including selenium. Soils from the valley lands further down the water shed have had the selenium washed out so they are low in selenium. I didn't know this and nobody talks about selenium deficiency in pigs since most pigs are raised on commercial feeds. Because our pigs get our soil during the nine warmer months of the year they are fine then.
Once we started farrowing year round we began seeing some mysterious deaths at weaning. The veterinarians had no clue as to what was going on. It was Curly's curly coat and a lot of research on the internet plus necropsies I did on the dead pigs and the observation of these pigs getting better once they got access to our own home soil that led me to the answer. They were missing selenium. The hay we got from other farms were down valley and low in selenium. Simply shoveling the dirt to the pigs solved the problem.
Fortunately they got into one of my warm frames for gardening in the garden and got some of our good dirt which contains all the minerals they needed.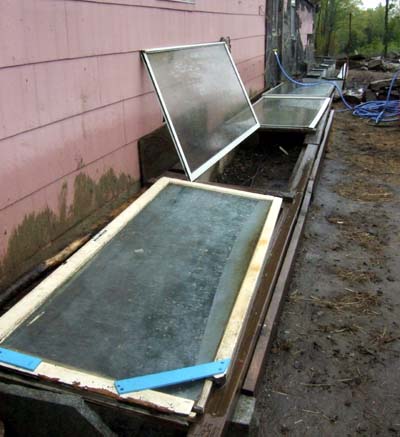 Lessons:
1) Get your soil tested so you know what it might be lacking.
2) Get your feed, e.g., hay in our case, tested so you know what it might be lacking.
3) Learn to recognize the symptoms of mineral deficiencies.
4) Consider feeding a mineral supplement if your soils don't have what it takes. Kelp meal is an organic, all natural form that many farmers are using. I find that about three teaspoons per hundred weight of pig per day is plenty – less is probably fine since they'll get some minerals from other sources. Do not free feed the kelp due to the salt content – too much salt can kill pigs. This is why you should not feed sheep, goat, cattle or horse minerals to pigs. We put it into our whey tanks and you can also spread it over dry feed.
Update: While our soil tests out as complete with minerals I have discovered over the years that I get about one more piglet per litter if I feed a little bit of kelp. It doesn't take much. About 1/4 oz of kelp per hundred weight of pig per day is sufficient to make the difference. Several times that doesn't hurt. That's only about 1¢ per hundred weight of pig per day. It is most important for gestating sows and young pigs. This can be added to their whey, water or feed. If I don't have kelp human pregnancy vitamins also work. Kelp is cheaper and I prefer that.
What I have done for years is to dig up soil and store it in five gallon pails to feed to the pigs over the winter. Additionally, during the course of the winter, as I move large bales of hay around I grab a shovel full of dirt from under the bales since it isn't frozen. I toss this to the pigs in their various winter paddocks. They love it. A shovel full a week keeps the mortician away.
It is the weaner and grower pigs who are especially susceptible to this issue. They are growing rapidly and don't have the reserves. Those born in winter are at the greatest risk. A lack of minerals can cause sudden death at weaning.
Next comes gestating sows as their fetuses need a full complement of minerals and vitamins for proper development. Older pigs fair better up on the snow pack where they can't get to the soil as they have reserves but they still likely benefit from kelp.
Update 20150713: Speaking of litter size and nutrition I have found in an accidental controlled study (looking back through my records) that sows who are getting a small amount of kelp in their diet are having an average of one more piglet per litter than sows who did not have the kelp in their diet. It was in the second half of gestation that this seemed critical. I have not yet had a chance to fine tune this with a planned controlled study – this is just from reviewing my last year's worth of data for multiple groups some of which got kelp and others who did not.

Some sows ended up in both data sets and the kelp remained the controlling factor. This is across our genetic lines (Yorkshire, Berkshire, Large Black, Tamworth, Mainline, Blackieline, Redline (not Tamworth and I really should rename them Mahogany line or something as they look nearly black as adults – that would avoid confusion)).

Kelp is cheap. About 1.5 extra piglets a year across our entire set of herds pays for enough kelp to supplement all 400 pigs. We started feeding it because our winter hay comes from a farm low in selenium. We have plenty of selenium and iron as well as other minerals in our farm's soil but in winter we're up on deep snow pack and using hay from down valley where their soil has less minerals in it.
If you have no other way of dealing with mineral deficiency consider feeding the animals a human vitamin. In a pinch it may save their lives and it is better than nothing.
Sometimes it is the little things, the trace minerals, that matter.
Outdoors: 58°F/30°F Sunny
Tiny Cottage: 70°F/65°F
Daily Spark: Predators have an advantage: they only have to win once. Prey must win every time to stay alive. -WillJ