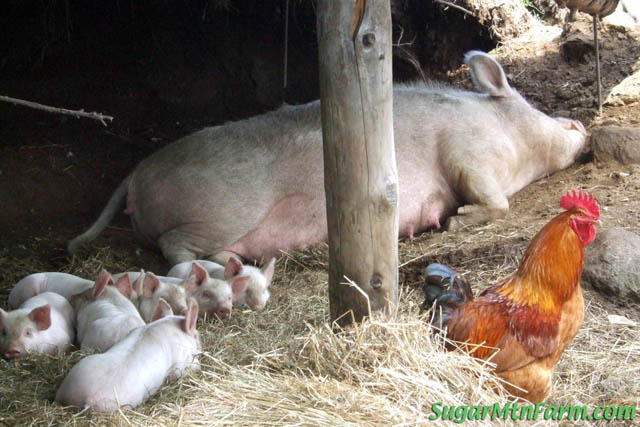 Piglets, Sow, Rooster on Hay
This morning Brian asked on Four Generations of Blackie:
When you discuss your annual hay consumption by the hogs, how much do you figure is used strewn around for nests? Do the hogs eventually eat some of it?
The vast majority of the hay ends up passing through the hogs rather than getting strewn. I actually got an interesting rough measure of this over a three year period on the pumpkin plateau winter paddock. I figured out that the pigs eat about 90% or so of the hay. Even the hay that the pigs bed in they eat a large portion of.

The biggest non-consumption of the hay occurs with the farrowing sows. They actively build nests and don't eat much of the nest hay. I think that in the sow hut they actually use a little less hay. As the month passes they keep adding hay to the nest building up high sides and a deep pack. Note that I say "they" add to the nests. It is very important to let them do it themselves. They chop the hay and pack it into the right shape. If humans add the hay it is wrong and can end up burying piglets. Better to set a supply of hay where the sow can get to it and carry it back to her nest. Besides, she enjoys the process and it keeps her busy. Idle snouts and all that…
Next up in wasters is the smaller pigs. Their small teeth, jaws and digestive tracks are not as good at processing hay as the big pigs. The big pigs eat everything in front of them in big mouthfuls but the little pigs pick through the hay looking for the clover, alfalfa, seed heads and finer leaves. The result is they leave behind the courser materials which pile up to make a thick bed.
After winter I pile up remainders in my compost piles. This works well as by then it has manure in it. This gives me my annual supply of hay/carbon for our compost piles. That then becomes soil amendment for our extensive gardens. Nothing goes to waste.
Outdoors: 60°F/30°F Sunny
Tiny Cottage: 70°F/64°F
Daily Spark: "Life should NOT be a journey to the grave with the intention of arriving safely in an attractive and well preserved body, but rather to skid in sideways, chocolate in one hand, martini in the other, body thoroughly used up, totally worn out and screaming ~ WOO HOO what a ride!" -Hunter S. Thompson
This post originally appeared and then was lost in my old web server crash. I'm reposting it now to bring this new server up-to-date. Some comments may have been lost when the hard drive crashed and burned.