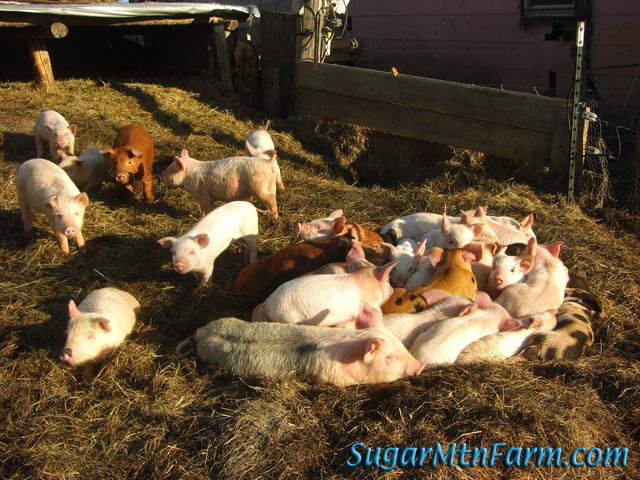 52 Weaners in a Cohort
This is a cohort, a mixed group of piglets from several sows all weaned at about the same time. They just moved to the house garden which is a wintering space while our fields are snowed over. This is the first group that we have done an experimental new soft weaning technique.
Typically when we wean we move the sows out of the farrowing paddock. Then the piglets either stay in that area or we collect the piglets and move them to a new area. This is a hard weaning. They go off of mothers milk abruptly. In the warm months they've been eating soft pasture plants for quite a while but in the winter the hay is not quite a substitute for them although the bigger pigs thrive on it.
These weaned piglets already been eating hay, winter's pasture, and dairy for a while, along side their mothers but I have wondered if we might do the weaning a little more softly. The reason for wanting to change things is that some piglets go down hill a bit right after hard weaning.
To do a soft weaning a single sow gets left with the piglets and they all get to continue nursing on her for an extra week. Because she can't produce enough for the entire group none of them are getting their full feed ration from her at this point. This softly shifts them to depending on the pasture, hay and dairy for their food. It also gives them a chance to wean off the mother's antibodies and build their own resistance.
This is more like the natural summer process of weaning which produces better piglets than winter. In the summer the piglets shift more gradually to pasture which is easier to digest than the winter hay. The process might get spread out over four weeks. We're doing it a little faster than that at the final soft weaning phase in observance of the wet nurse sow's health. We don't want her to get drained down from caring for so many piglets. This idea came to me from Angela and Jolie as well as their daughter Happy who have a long history of adopting and wet nursing other sow's piglets.[1, 2, 3, 4]
Even with this soft weaning I do find that we must watch carefully for the rare piglet who does well on mother's milk but does not do well on other foods. There were two in the above group. They're thin, still lost weight even with the soft weaning and are in an outdoor ICU in the garden where we can watch them and keep them from being laid on by their buddies who would just as soon use them for pillows. Pigs are like that.
The group in the photo above is the first soft weaning we've done. It seems to have worked fairly well. A second group is starting soft weaning today in the south field so in a month we'll have two significant data sets on how this works. Just from having watched the first group I suspect that this is what we'll move to in the future.
If you click on the photo at the top you can see a much larger version which you can save to your desktop as a background or wallpaper file. A piglet fix for those in need…
Outdoors: 72°F/43°F Sunny
Tiny Cottage: 73°F/66°F Windows open for summer
Daily Spark: A watched plot ever thickens.