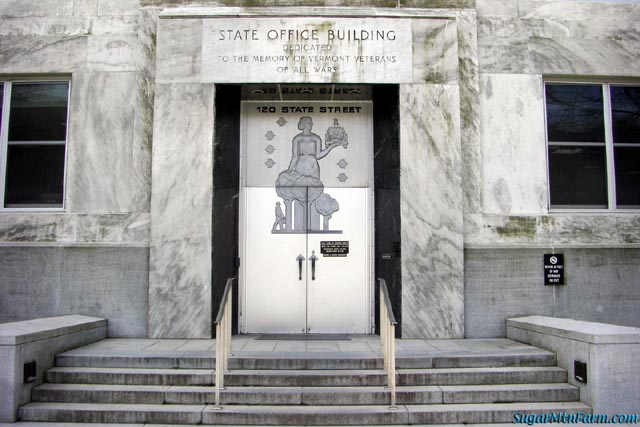 State Office Door
One good thing that government often does is encourage very interesting architecture. Not always, but enough of the time to be noteworthy. Montpelier, the capital of Vermont, is no exception. This door on one of the Vermont state government office buildings is quite beautiful.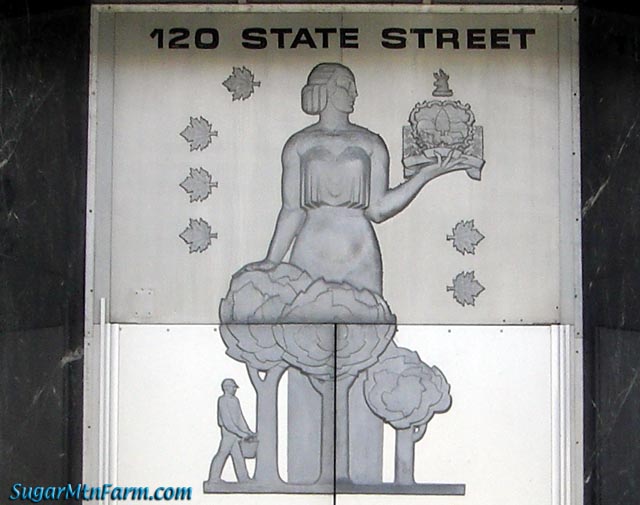 State Office Door Closeup
And a closer view passing through that pelvic gate. And who says government lacks humor?
Outdoors: 72°F/30°F Sunny
Tiny Cottage: 72°F/67°F
Daily Spark: Today I bring you paraprosdokians shared with me by a friend:
A paraprosdokian is a figure of speech in which the latter part of a sentence or phrase is surprising or unexpected in a way that causes the reader or listener to reframe the first part. It is frequently used for humorous or dramatic effect, sometimes producing an anticlimax. For this reason, it is extremely popular among comedians and satirists.
Do not argue with an idiot. He will drag you down to his level and beat you with experience.
If I agreed with you we'd both be wrong.
Knowledge is knowing a tomato is a fruit; Wisdom is not putting it in a fruit salad.
Whenever I fill out an application, in the part that says "If an emergency, notify:" I put "DOCTOR".
A clear conscience is usually the sign of a bad memory.
You do not need a parachute to skydive. You only need a parachute to skydive twice.
The voices in my head may not be real, but they have some good ideas!
Always borrow money from a pessimist. He won't expect it back.
A diplomat is someone who can tell you to go to hell in such a way that you will look forward to the trip.
Money can't buy happiness, but it sure makes misery easier to live with.
I used to be indecisive. Now I'm not sure I was.
When tempted to fight fire with fire, remember that the Fire Department usually uses water.
You're never too old to learn something stupid.
Nostalgia isn't what it used to be.
Some people hear voices. Some see invisible people. Others have no imagination whatsoever.