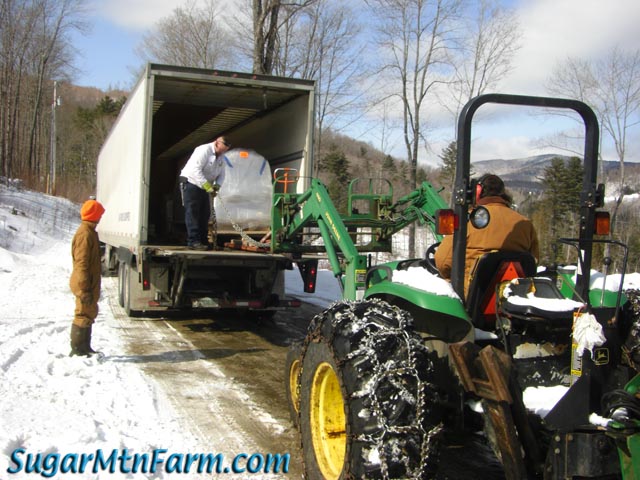 Baumann Stainless Steel Convertible Arrival
Last summer I wrote that for my birthday I was getting a
Stainless Steel Convertible
. Well, it arrived! It was shipped all the way from German where they make these beauties. Roll down top, high quality stainless steel all around and a powerful three phase motor under the hood. This baby can hum! And wash 500 lb pigs! In fact that's what the the Baumann Scalder Dehairer excels at.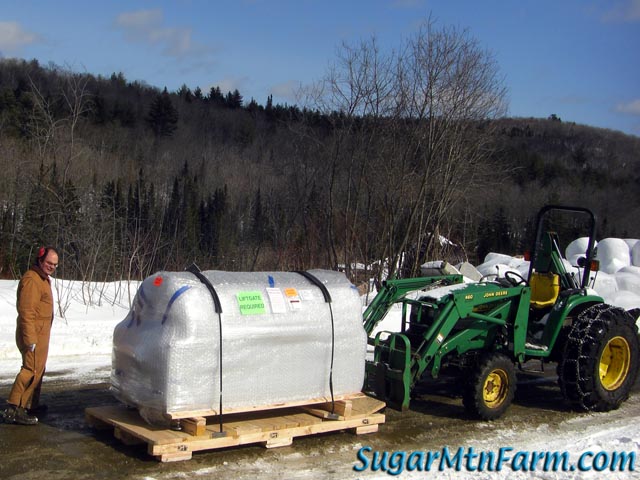 Inspecting the Beast
The dehairer is the largest thing I've lifted or carried with our tractor. Probably both in weight and size. Certainly as measured by value. The machine is 108″ long plus extensions plus the extra two feet or so of the super duper pallet it was sitting on. I requested a Lift Gate truck for delivery. The lift gate was not capable of actually unloading the machine.
In fact, the delivery guy's jack couldn't lift it since the dehairer's pallet was so long. We used logging chains on the tractor to pull the dehairer out of the tractor trailer truck. With the lift gate taking half the load and the tractor forks taking the other half of the load we gently lowered it to the ground in sync. Nerve wracking to say the least.
Everything went perfectly – I was rather nervous simply because the machine was so big, so expensive and it had taken eight months to get it here. I didn't want to drop it and be set back. Yes, I had placed insurance on it that morning but the time it would take to get a replacement would cost us dearly.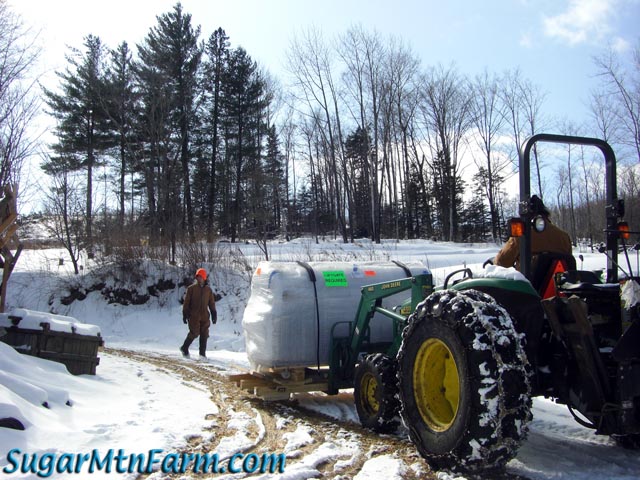 Carrying it up the Mountain
Once we got the Baumann down to the ground I dragged it backwards off the truck's lift gate using the logging chains and repositioned our tractor sideways of the Baumann to carry it up the mountain.
Realize that the load was so wide and tall I couldn't see anything in front of me. Ben, Will and Holly walked ahead to guide me as I drove blind. The trip up the five hundred feet or so of our driveway was slow and uneventful. I like boring.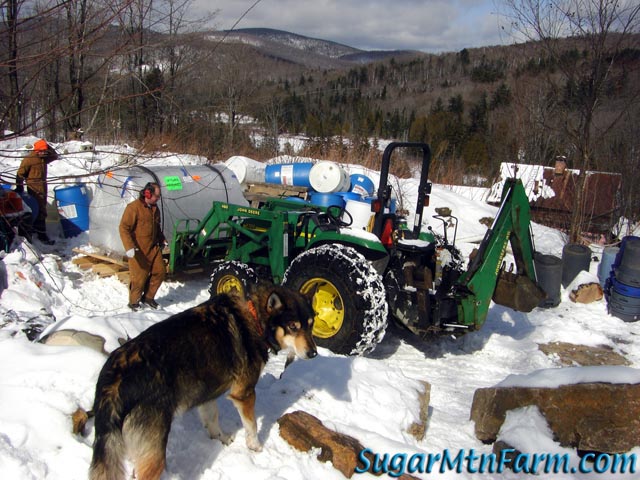 Guard Dog Kavi Supervising the Storage of the Baumann
It will be a few months before we're ready to install this nice shiny new machine. We're still locked in ice up here on the mountain. For now we have a stainless steel lawn ornament.
(Hmm… Make note to self to plant a lawn to go with ornament.)
It is tucked in, tarped and plywooded behind barrels and thick logs to protect it until we're ready to install it in our on-farm butcher shop's Abattoir. When we're ready to dehair, it's there.
Outdoors: 54°F/19°F Sunny
Tiny Cottage: 70°F/65°F
Daily Spark: He who hesitates is sometimes saved. -James Thurber