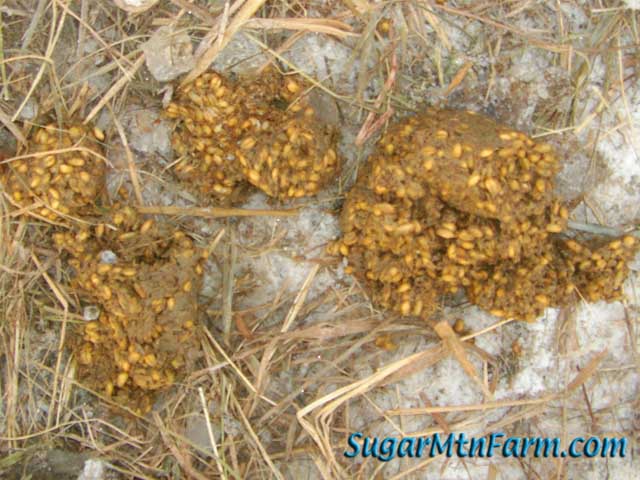 Grain Passing out in Manure
Amy asked:
We currently raise our pigs out on rotated pasture in the pacific Northwest. We have a local friend who mixes feed for us – its barley, wheat and peas with a mineral mix. We were allowing the pigs to self feed but I was told the boars and sows would get to0 big so we switched to hand feeding them. We give each of the breeding animals 7 lbs a day of this mix, plus grass hay and raw milk when we have it. We will have 5 Jersey cows in milk this Spring so we hope to cut back on the grain and mainly feed milk and hay. I didnt want to switch them drastically right now as 3 sows and 1 gilt are expecting. What are your thoughts about the amount of a grain mix to feed, especially sows who are expecting?

First thing, and I ask this not just for you but for everyone who is having feeds made up: Are you grinding, rolling, pelleting, soaked, boiled or roasting the barley, wheat and peas? Whole they are not very digestible for the pigs. Instead the whole barley wheat and peas simply pass through the pigs while the pigs starve.
This is on my mind because I recently met some pigs who were in this situation. Nine month old pigs who looked like they were five months old based on size. They were skinny. They had bad hair and skin. Their hooves were brittle. The give away was that their manure was filled with whole barley which is what they had been fed – shown in the photo above. Probably they were not able to get the nutrients out of the whole barley which resulted in the poor growth, low weight, skin, hair and hoof problems. The farmer was effectively throwing their money away and starving the pigs since they could not digest the whole barley. This resulted in some mighty expensive pigs.
This is the second time I've run into this. Another farmer I know told me that he bought a whole truck load of barley because it was cheap. But then when he fed it the grain went right through his pigs and they lost weight. He lost money on cheap feed twice over – once paying for the feed and twice with the loss of growing time in the pigs.
This is why I ask about how the grains were prepared for your pigs. Realize that the grain's objective in life, similarly for fruit, is to tempt animals to eat them by having a high sugar/starch content. Animals eat the grain and fruit but the seeds pass through. In fruit's case there is a lot to digest for the animal but in grain's case unless the animal chews their food well or has some other way of pulping the grains they will just pass on through into the animal's manure piles. The seeds love this as they get activated by the warm moist digestive tract and rich pile of dung where they subsequently grow. They grains use the technique of numbers – some of them will get chewed but many get passed through. Pig's don't chew much so they are not good candidates for feeding hard grains whole.
That aside, what you're feeding is what I call candy. Like most other "candy" feeds such as the commercial hog feeds it is based on a mix of grains. Provided it is properly prepared the grain is very high in calories. If it is properly balanced then it will have the necessary protein. Ask the person you're having mix the feed if they balanced the proteins. Minerals and vitamins must also be added to the mix. This is very important. You might also want to learn about Pearson's Square.
My recommendation would be that if you're going to feed candy then do so in the evening. Have the pigs eat pasture/hay and dairy all day long and then give them dessert at the end of the day.
In terms of transitioning from the grain to the pasture/hay and dairy I would suggest a two to three week period where you soak the grains in the milk to create something that is similar to what their digestive tract is used to while introducing the new feed. Add yogurt too.
Your pigs will also need to learn to eat pasture if they don't already do this. Eating different things is part cultural and part having the right gut flora and fauna as well as genetics. Realize that pigs that were selected for high growth rates in the factory farms may have short intestines and just not work on pasture. Thus genetics can also play a role. This is why it is important to select the genetics in your herd for those who do well under the management and feed regimes you'll be using. If one is buying piglets then get them from someone who raises them how you want to do it.
Outdoors: 33°F/16°F Mostly Sunny
Tiny Cottage: 70°F/65°F
Daily Spark: "I would rather be on my farm than be emperor of the world" -George Washington