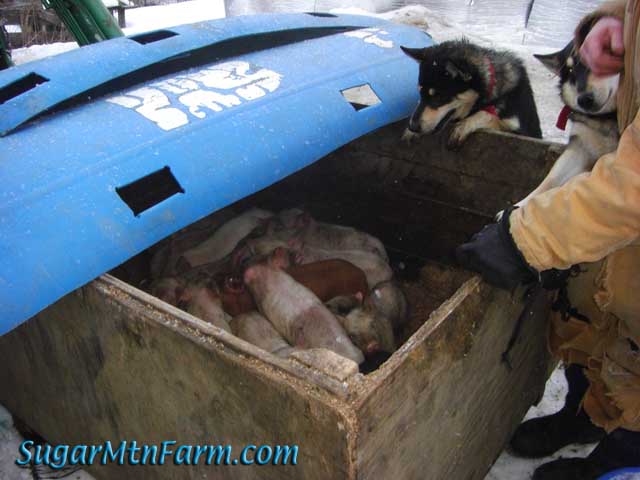 Moving Box of Weaner Piglets
Hanno and Sirus are intent on helping to move these weaner piglets. These piglets were born out in the nurseries of the south field. Now at about six weeks of age it is time to wean them off of their mothers who are getting tired of nursing them. The sows start to lay on their teats to prevent the piglets from nursing. The problem is the ladies can't stand up to go pee, eat or otherwise take care of business without being mobbed by hungry little mouths. Time to wean.
Winter months can be brutal. Winter is something to be survived. Or not. The cold months are the times when crop farmers spend planning for the golden months to of spring through fall to come. Livestock farmers are stressed if they're breeders or other wise carrying animals across the cold months. What was once easy liquids and soft soil becomes hard like iron. In more southern climes they deal with months on end of mud season. Avoid farming in the cold if you can. Winter is brutal.
To supply our customers year round with weekly deliveries we had to develop many techniques for dealing with winter when pastures may be under four feet of packed snow and ice. We keep summer rolled up in bales of forage. We stock pile dirt for the minerals. We time our sow's weanings to encourage their next farrowings to be during the easier periods of weather. With a lot of planning and a little luck it works. Or maybe its the other way around.
This week we rotated pigs. No, not on a spit for a BBQ. Rather we were spinning tens of thousands of pounds of live pork around the farm, moving them from one to the next winter paddock. As piglets age they become weaners and move in large groups to new areas. In this case the South Field Courtyard piglets became the mid-level hoop house weaners. Meanwhile north field shoats had grown and they moved down the mountain to become garden growers. Growers became house end roasters. What used to be the roaster group shifted south to become the front hoop finishers. Select gilts of prime genetic potential were pulled out and moved to the breeding herd or otherwise noted so they could be kept as possible replacement breeders.
With all this happening six more sows farrowed and nearly ten more are about to farrow right behind them. The spring flush of life. Generally we try to have some farrowing each week but between their natural clustering and my wishing to avoid the brutal months of January and February we are seeing a large cluster coming at us over the next week or two. Behind that I see another big cluster next month. This is goodness.
Outdoors: 34°F/24°F Partially Sunny
Tiny Cottage: 68°F/65°F
Daily Spark: Find your niche and sharpen your knife.