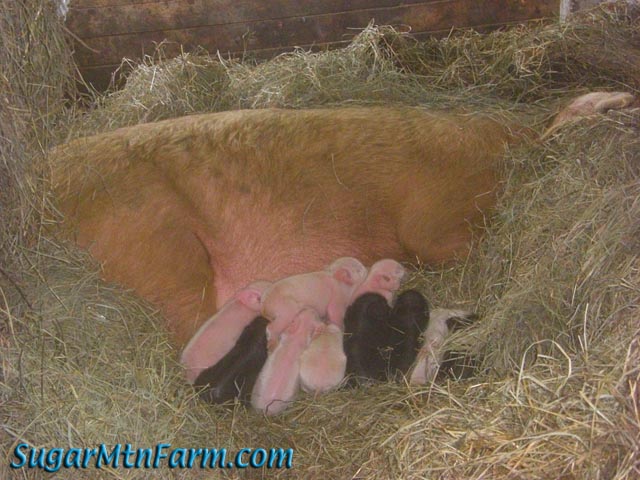 Nan Sleeping with Piglets
Oodles of new piglets have been born this past month in the South Field Shed. The one's above are with Nan, a two year old sow in the west middle nursery. She can go in and out of her 12'x8′ open stall just like I discussed recently with
Charlie
. By having the sows be able to freely move about they maintain their social networking with the rest of the breeding herd. They also have cleaner stalls since they're not eating, pooping and peeing in bed. This means we don't have to shovel out stalls. The bedding builds up to create a deep bed of composting organic material that warms the piglets.
The kids have been snowboarding and sledding down the new water line road that extends up Sugar Mountain to the sap house. That's about a 2,500′ long run plus an added several hundred feet further down to the new upper pig pond in the upper south field if one takes the road less travelled.
With the clear skies we've not burned fires for ten days out of the last two weeks. The outdoors temperatures have been seasonal but now that we're getting into the period of blue skies we gain a lot of energy from the sun that stores up in the 100,000 lbs of masonry of our cottage. In a wooden framed house the solar gain through our large windows would cause over heating but with our stone work the energy soaks in and is stored to be slowly released over a period of days in a flywheel effect. Spin'er up, Scotty!
Outdoors: 25°F/4°F Sunny, 1″ Snow
Tiny Cottage: 64°F/59°F No fire
Daily Spark: Every tool leaves its marks.