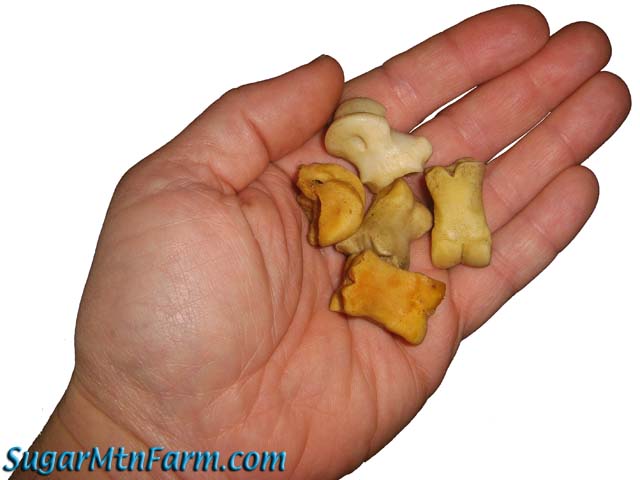 Pig Knuckle Bones – Original Dice
Knuckle bones
were perhaps the original
dice
, thrown to divine the will of the gods. Or maybe that's just a good excuse for gambling.
Katya Examining the Throw
The dogs toss the bones a lot. It passes the time in the evening around the camp fire when they're not chasing off coyotes. They also eat the bones so I must then give them a new set. The impermanence of being.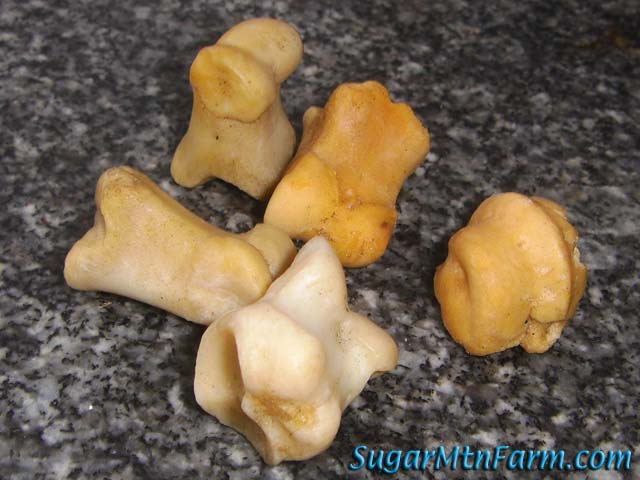 Full House!
Since each knuckle bone is unique it changes the simple probabilities of commercial manufactured dice. Gambling creates a need to understand probabilities. Perhaps playing with such unique dice leads to advanced mathematical abilities.
We cook pig's feet, also known as trotters, to make soup and stew stocks which are high in nutrients and gelatin – great for thickening and for our joints. The knuckle bones come out very cleaned. The dice above are aged, almost antique, in their look because they have been sitting on the warming stones on top of our wood stove.
Outdoors: 30°F/13°F Mostly Cloudy
Tiny Cottage: 65°F/63°F No fire for five days
Daily Spark: I, like God, do not play with dice and I don't believe in coincidences. -V to Evey in V is for Vendetta