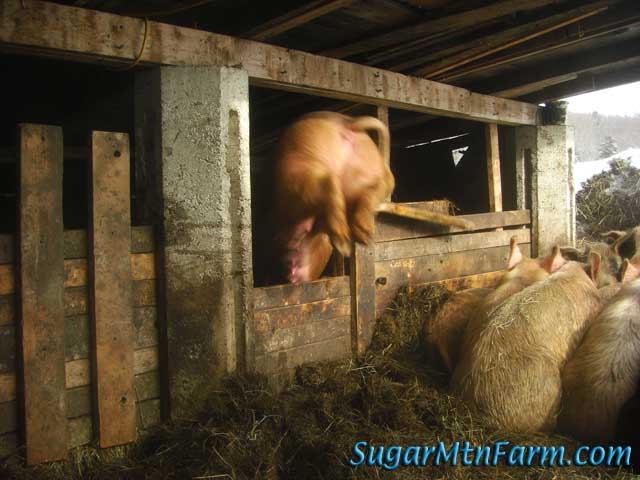 Charlie Sow Jumping Gate
When pigs are properly motivated they can jump quite well, not even touching the hurdle as Charlie demonstrates above. Their leaping height is not as great as a dog's but still fairly respectable given the pig's stout body. One of our boars Spot easily cleared four foot fences if there was a lady to visit. The fact that he didn't do it most of the time was simply because he had all his needs and desires on his side of the fence most of the time since he lived with the herd.
In the photo above Charlie is jumping the door into her nursery to get back to her piglets. During the warm months the sows build their nests of straw, sticks or bricks out in the margins of the pasture away from the herd (yes, just like the three little pigs). During the winter they can't get the privacy they want since they naturally stay closer to home. To help them we provide a variety of private housing areas where they can easily defend their nests from other pigs coming in to their personal spaces.
The stall above in the south field shed is one such example. It has a small entrance that is easily protected so that Charlie can keep out other inquisitive noses. But when she wants to socialize, eat, gather hay or do her, er, business she can hop out to go where she wants. The stall to the left is closed to keep pigs out – just a matter of raising the bar and locking it with the verticals.
After a week or two sows often want to share a nursery. Charlie is now moved in with the sow Quartermane as I write this where the two of them share nursing duties for their piglets. During the summer we see this same thing as the individual sows join up into larger cohorts on pasture and then eventually bring their piglets to rejoin the herd if their in the big fields.
Outdoors: 72°F/43°F Sunny
Tiny Cottage: 70°F/67°F
Daily Spark: Live a good, honorable life.. Then when you get older and think back, you'll enjoy it a second time. -Folk Adage