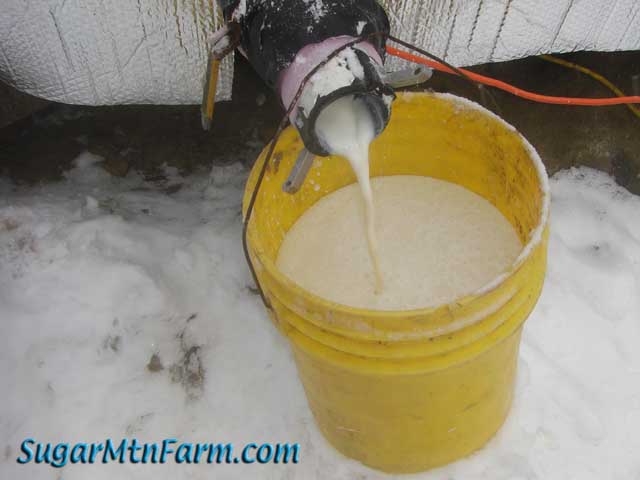 Pail of Yogurt
We make hundreds of gallons of
yogurt
at a time in our three 1,000 gallon dairy
tanks
. The yogurt helps to keep the whey from spoiling, prevents mold and aids in the livestock's digestion with
probiotics
– that is to say friendly bacteria. The pigs love it.
The pail above is one I'm about to carry over to a group of weaners in the north home field area. The yogurt is so thick it barely flows through the two inch pipe that crosses under the driveway. On very cold days we risk it freezing inside the pipe near the end so I'm carrying five gallon buckets to them instead.
To make the yogurt we start out with a quart of live culture yogurt and mix it in a clean five gallon pail with some whole milk and the dairy fresh off the truck. The reason for the addition of the whole milk is that often we get whey. Sometimes though we get cream or whole milk for the pigs and then I don't have to add the milk to start things.
The five gallon pails get cultured in a warm place such as on top of our masonry stove. Once they've set we pour the now much larger amount of yogurt into the 1,000 gallon tanks to culture them. If we do that just before the truck arrives with a new load of dairy the in-flowing milk, whey or cream mixes the yogurt we've made and then the tank cultures.
Even though the tank is not up at the ideal temperature this still works very well. Time vs Temperature. Once cultured the tanks keep making more yogurt with their every day or other day inflow of fresh dairy. It is almost a self-sustaining continuous flow through process.
Outdoors: 30°F/9°F Partially Sunny
Tiny Cottage: 69°F/66°F
Daily Spark: I'm just killing time before it kills me.