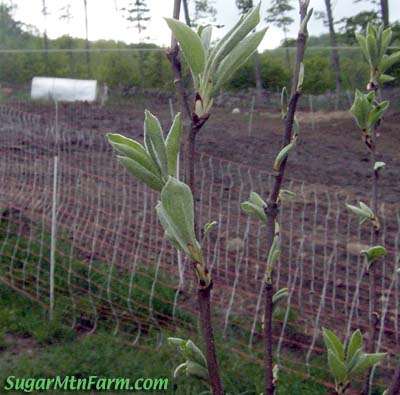 Pear Tree by North Garden
This is a budding pear tree by the north garden. It's not a recent photo – things are cold and dead right now in the heart of winter. We have no green. Yet, now is the time to think about pruning the trees I have planted and also to think about planting more.
Fruit, nuts, legumes, beets, turnips, kale, rape and other things are great additions to our livestock's diet. People think of pasture as being grass but really it is much more than that and what it offers varies with the seasons. Clover and alfalfa, both legumes, suck nitrogen out of the air and boost the protein value of the pasture and building the soil without us having to buy fertilizers. Tubers send deep roots down right into the ledge bringing up minerals, water and other nutrients. Nuts are filled with protein and fats. Fruits provide vitamins and sugars. Variety is the spice of life and makes for better tasting meat.
So now when the cold winters months bury the land under a protective coat of white snow I plot and plan where I'll next plant fruit and nut trees.
Outdoors: 11°F/-16 Sunny
Tiny Cottage: 69°F/67°F
Daily Spark: Fences need to be horse-high, pig-tight and bull-strong. -Old Saying