Concrete Chute & Sorting Boards
On the left is a yellow chute extension for delivering concrete so we can get it further from the truck without using a pumper. Out in the south field we had built a very long wooden chute,
a flume
, for delivering concrete to the south field shed. This smaller aluminum one is handy as it is moveable. But they're expensive at about $500 a pop.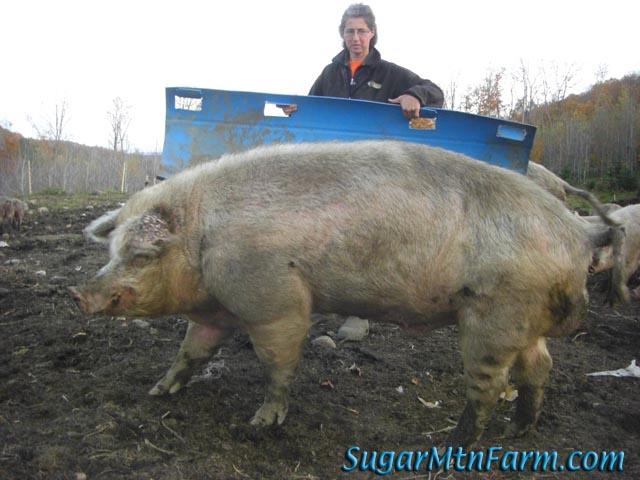 Archimedes & Sorting Board – That board is ~6′ long.
At one point we were moving pigs and then left our
sorting boards
lying next to the concrete chute extension. Light bulb time! The same method we used for making livestock sorting boards would work great for making concrete chutes!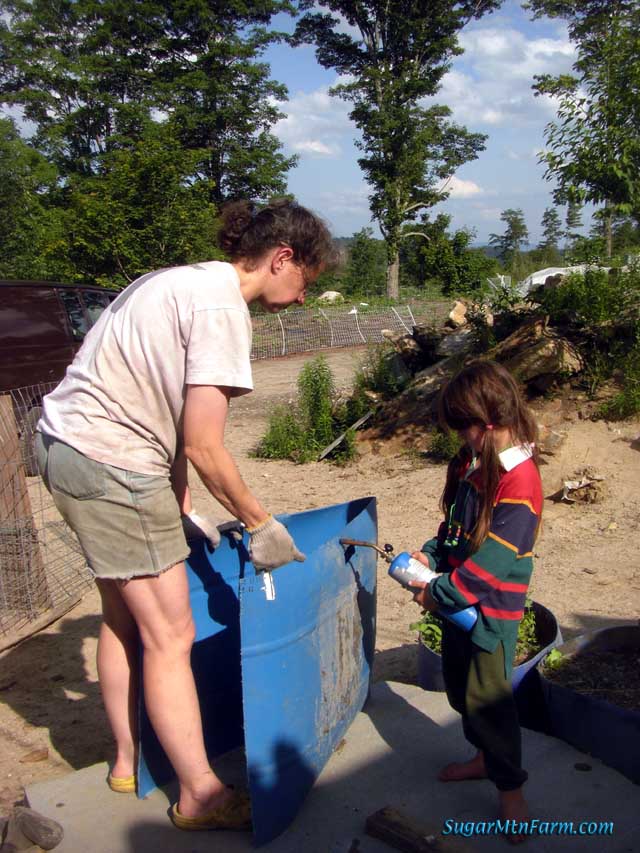 Hope Putting Handles in Sorting Board
We make sorting boards by cutting the ends of 65 gallon plastic barrels, slitting the resulting tube and then flatting it under a heavy slab of stone in the sun for a few weeks. A saw and a torch make for the handles. The sorting boards have a little bit of curve to them as you can see in the photo above. This makes for great chute extensions and very cheap since we can get the barrels for free or $16 used at salvage places. (As an extra bonus, this cutting produce two shallow dish piglet or chicken feeders – don't throw those away!)
Sorting Boards Discouraging Visitors
These chutes could be used to deliver all sorts of things besides concrete. Lapped they could extend long distances. Possibilities. Gotta love used and found things. Serendipity.
Also in the top photo you can see:
A plywood jig for making trusses for the ceiling of our on-farm butcher shop.
Growers in a garden. This photo was taken in the late fall, almost winter, when the smaller pigs were starting to move into the winter paddocks which are summer gardens.
Wooden wall is actually formwork for the concrete wall of the Lairage of our upcoming butcher shop.
Just to the left is the infamous Ramp for jumping concrete trucks over the butcher shop.
Outdoors: 9°F/-9°F Sunny
Tiny Cottage: 60°F/59°F
Daily Spark:
Serendipity is the art of making an unsought finding. -Pek van Andel
Serendipity is looking in a haystack for a needle and discovering a farmer's daughter. -Julius Comroe Jr.
I had the serendipity of modeling during a temporary interlude between Twiggy and Kate Moss, when it was actually okay for women to look as if we ate and enjoyed life. -Cybil Shepherd
Serendipity. Look for something, find something else, and realize that what you've found is more suited to your needs than what you thought you were looking for. -Lawrence Block
Sometimes when you don't get what you want, you get what you need. Serendipity. -Anon