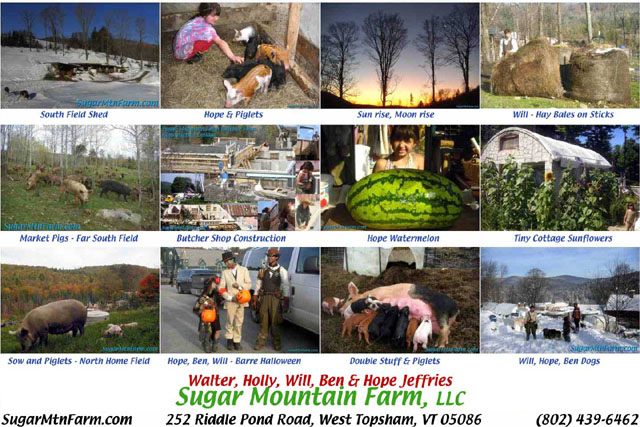 Calendar Back Cover
All the Seasons at Sugar Mountain Farm
It's a new year and calendar time! The image above is the back cover of the calendar showing a photo index of the pictures. Also check out the calendar from
last year
.
We made print versions of the calendars at VistaPrint and the calendar is freely downlaodable as well. Just grab it as a digital download as a
PDF
. The file size is about 2.1 Megabytes so be prepared for long download times if you're on a slow connection. Use it on your computer or print it out to hang on the wall so you can enjoy looking at farm scenes all year long.
But enough about trivial technicalities – we're all here for the pictures right!

Cover Sugar Mountain Farm Calendar 2011
Jeffries Family at the Tiny Cottage in the Big Woods
We like doing a family photo around Christmas each year. This time we're standing on the steps in front of our
Tiny Cottage
which we built
five years ago
.

January
Hanno & Sirus Investigating on South Field Plateau
The twins,
Hanno and Sirus
, are brothers from the same litter and look almost identical. They're checking out something on the south field plateau which was
gardens
during the summer months. During the winter I store hay there and the herd uses it as part of their winter paddock.

February
Hope Socializing Piglets
Piglets need to interact with people to learn to socialize just like other animals. Given a little bit of time a day they become much easier to manage and are friendlier. Without this they are naturally wild and hesitant.

March
Sun Rise, Moon Rise
This is a beautiful combined sun rise and moon rise through the sugar maple trees along the stone wall between our home field and south field.

April
Will Putting Out Hay
Usually we get wrapped bales but this year we're trying some unwrapped bales. The theory is the wrapped bales store better for a longer period and that the wrap allows for some fermentation that aides digestion. This hay is a little coarser than our usual hay but the pigs say it is definitely good enough for bedding and I've seen them eating some too.

May
Market Hogs in Far South Field
Finally! The pigs are happy to finally have the further pastures starting to green up. Winter has been long and they're excited to get into the fresh forages.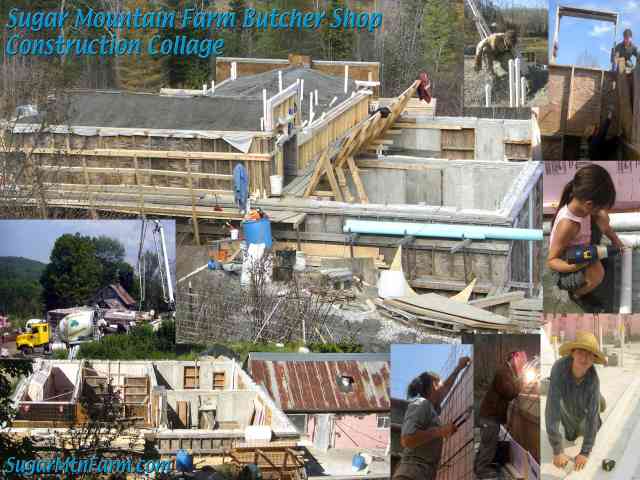 June
Butcher Shop Construction Collage
This year we've made great strides on
building our own USDA/State inspected on-farm slaughterhouse, butcher shop and smokehouse
. We have finished pouring the super insulated outer walls, the inner reefer walls, the vaulted concrete ceilings of the chiller, cutting room and kitchen and we've setup the forms for pouring the administration and smokehouse section. It is a lot of work, our Big Project, but we're all looking forward to beginning meat processing in our own facility.

July
Hope with Great Watermelon
This was our best year yet for growing watermelons including several large Georgia Rattlesnake Watermelon from Burpee.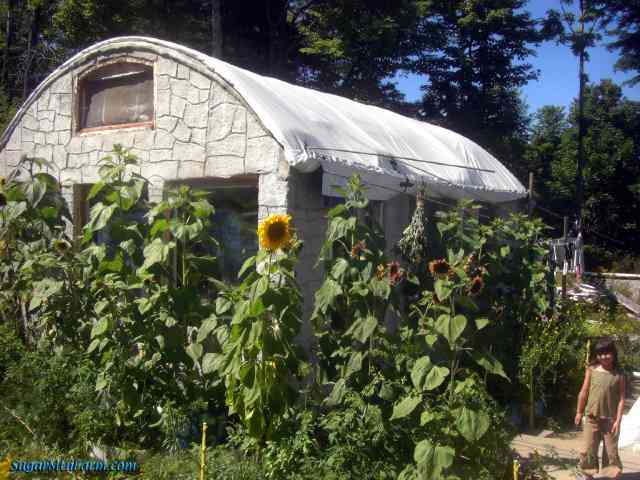 August
Tiny Cottage, Big Sunflowers, Hope
I love growing sunflowers. Big ones, little ones, tall ones, short ones, yellow ones, orange ones, fuzzy ones, seedy ones. We grow some that go to feed our livestock, these that shade our windows and others just for fun.

September
Sow and Piglets, Fall Foliage
I caught this sow and her piglets grazing contently high up in the north home field with the fall colors starting to show on the mountains behind her.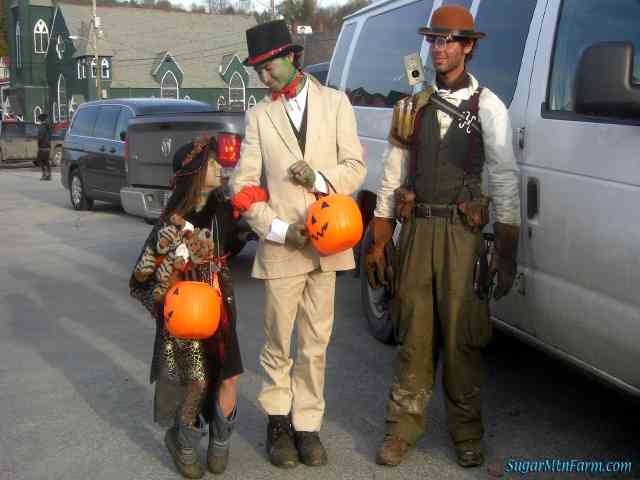 October
Hope, Ben & Will Halloween Costumes
Hope and Ben were the Bride of Frankenstien and you-know-who. Will was the good doctor – a real tinker back when Mary Shelly and her era were first grappling with the horrors of what would lead to GMOs.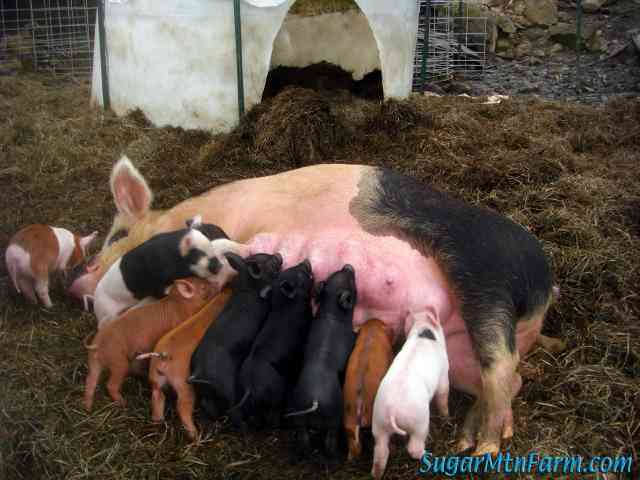 November
Double-Stuff Nursing Piglets
Double-stuff with piglets in the north home field. All the colors of the piggy rainbow.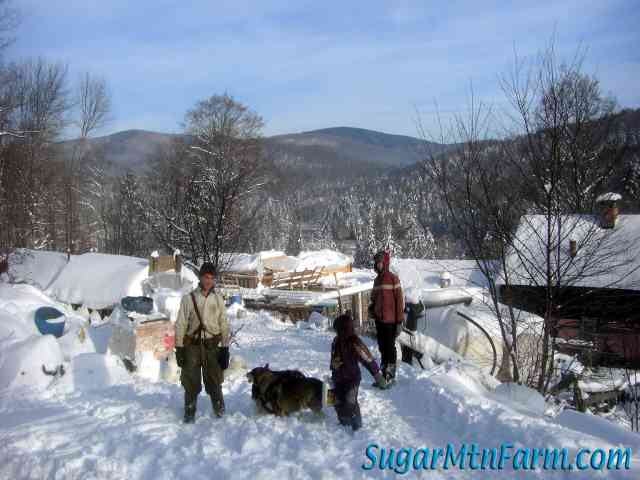 December
Will, Hope, Ben & Dogs on Driveway above Butcher Shop
A glorious blue sky sunny day with early snows blanketing the land. We're still doing outdoor construction so we wouldn't have minded if the white stuff had held off but you take what you get!
Happy New Year!
Credit for photos is spread through our family. I used Photoshop for the collaging and GraphicConverter's File:Convert&Modify Batch Scale to 1440 x 960 for use in the PDF and then 640 x 480 for the web. iCal did the hard work of generating the monthly pages. That used to be harder the way I did it in in Excel years ago. To generate the PDF I used PDFLab. Check out the Sugar Mountain Farm Calendar 2011 for more photos.
Outdoors: 24°F/20°F 2″ Snow
Tiny Cottage: 68°F/67°F
Daily Spark: Plans are nothing; planning is everything. -Eisenhower