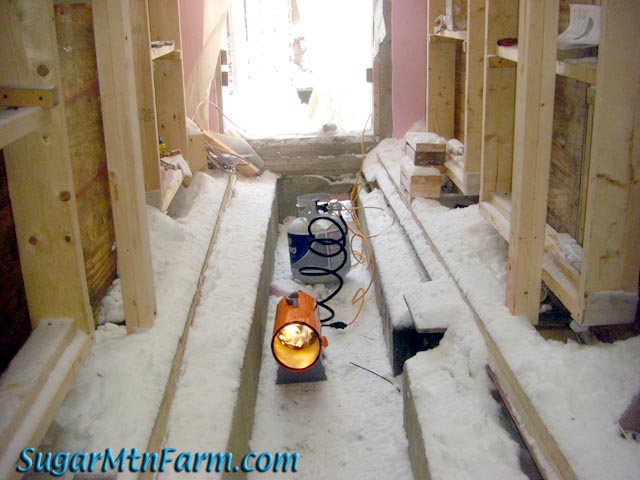 Pete – Our Pet Dragon
This little beasty has been working hard to melt off the ice in Admin where we were setting up forms for our final concrete pour of the year. With the added work load caused by the loss of the tractor and then getting sick for a week we got a little behind on our construction schedule. The weather has been a mixed blessing. It hasn't been brutally cold yet, not too often, but we did get some snow and ice that managed to get down into the form work that was partially up. The best way to get out the hard water was to liquify it and let it flow down our drains. Thus the dragon's breath.
It took about three days and thirty-seven gallons [pounds] of liquid propane (2.5 cylinders) to do the job. Laying down insulation over the top and mostly closing the doorways with plastic helped retain the heat. We left enough space for the dragon to breath. The propane heater cost $100. The cylinders were $20 a pop. The FirstAlert NightHawk (Explosive Gas & CO monitor) who watched over the dragon was $49.95. It worked and was much better than having to remove the forms so we could chip and scrape out the ice by hand.
Outdoors: 32°F/24°F Sunny
Tiny Cottage: 70°F/67°F
Daily Spark: If you are going through hell, keep going. -Winston Churchill