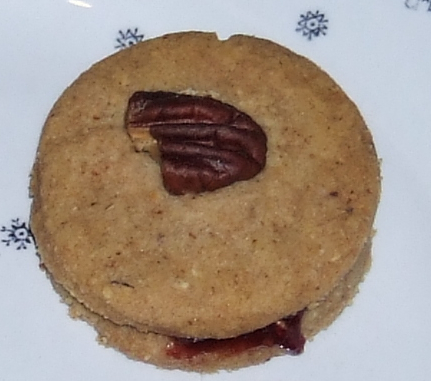 The following article appeared in the Burlington Freepress today in their Savore section.
Move over Pepperidge Farm – My son Will has the hot new Christmas cookie recipe to kill for. I am a die hard Milano fan but I'll take Will's new master piece over a Milano, even a mint Milano, any day of the year and for Christmas, with a touch of jam, they're just perfect.
I have always loved to cook, to make breads, to bake cookies. As a child I cooked for my large family, learning from my parents the joys of cooking from scratch at an early age. There were mistakes: The first batch of bread I ever did all on my own turned out like rocks – I forgot to add the yeast! Life is a learning experience and it just keeps getting better through practice. I redid that batch the same day and was able to give out delicious teddy bear shaped loaves of glazed wheat bread to all our neighbors.

My wife and I have passed our cooking skills and enjoyment onto our children. It is through doing it together daily over the years that they pickup the skills and the love of the art of cooking. There is both the daily routines and the special events around birthdays, family gatherings and holidays to look forward to, each with their culinary delights.
We started the kids off with simple things when they are young, frying an egg, making oatmeal, etc. Gradually they yearn for more complex challenges. Our eldest son is nineteen years old now and quite the home chef. Over the last four years he has been doing most of the cooking at our house and has become quite adventurous in the kitchen. His repertoire ranges from quick order breakfasts, to flan, small and large meat dishes, soups, stews, salads, breads and many pastries, roasting a suckling pig and apprenticing for eighteen months with a local butcher in preparation for our family opening our own on-farm butcher shop.
This year Will came up with the idea of giving out freezer dough cookies as Christmas gifts, all ready to thaw and bake. Simple, fast and appreciated. We've done freezer cookies for years in our household as it lets us make big batches of dough yet we can just bake a few at a time to enjoy them fresh.
An added benefit is that this little trick increases the quality and decreases the labor of making the cookies since it saves working the dough, rolling it out and cutting the cookies with a cookie cutter. By not working the dough the cookies end up more delicate since the gluten has not been stretched – the opposite of making bread.
Grandma David's Almond Jam Cookies
Instructions:
2 1/2 cups butter – softened at room temp (do not heat)
2/3 cup sugar
2 cup flour
1 3/4 cup almonds
1/8 tsp. Cinnamon
Jam (we like raspberry)
Pecans, walnuts or the like for top garnish
Mixing:
Finely grind almonds. A mortar and pestle works but the kitchen blender is faster.
Cream butter & sugar together.
Beat in flour 1/2 cup at a time.
Add almonds & cinnamon.
Mix until dough becomes lots of little crumbles.
Refrigerate for a couple of hours.
Work dough minimally and roll into logs about 1.5″ in diameter by a foot long.
Wrap in wax paper or plastic for freezing.
Cooking:
Preheat oven to 325ºF (162°C)
Take out the dough logs and slice off cookies as disks about 1/4″ thick. If your freezer is very cold you may have to let the dough warm up to do this safely and easily.
Add a pecan nut on top of half of the cookies for extra flavor. It looks dashing, providing different texture and taste that complements the cookie's flavor.
On an non-greased baking sheet, cook for 25 minutes until lightly brown. Check them and if you like them darker then give them another five minutes.
Take them out of the oven and after they have cooled for five minutes, sandwich a little bit of jam jam between cookies, with the ones that have a pecan as the tops.
One batch makes approximately 25 sandwich cookies.
The foundation of this recipe was passed down from Will's mother's mother. Do yourself a favor and take the time to make some of these wonderful cookies with a child for Christmas, Boxing Day, New Years or even Wednesday. Make cooking a tradition to be remembered.
The Jeffries family live on Sugar Mountain Farm where they have all naturally raised pastured pigs in West Topsham, Vermont. You can check out their farm and blog at SugarMtnFarm.com on the web.
Outdoors: 35°F/7°F Partially Sunny
Tiny Cottage: 61°F/59°F
Daily Spark: I hearing people say "that defeats the purpose." Fact is, you can't defeet the porpoise. Porpoises have fins, not feet.