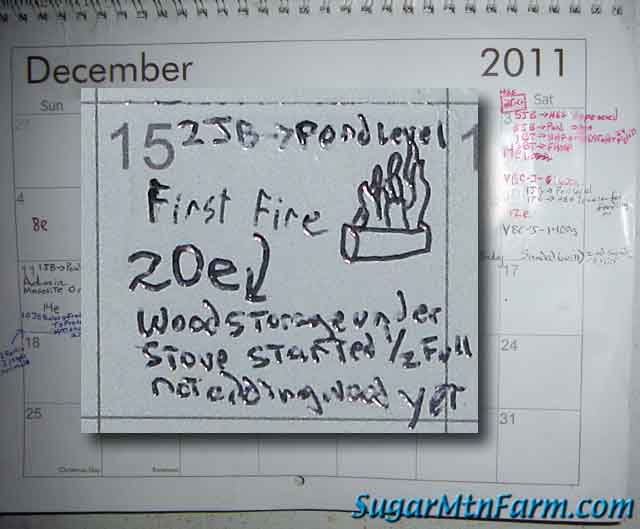 December 15th, 2011 – First Fall Fire – Start of Heating Season
This evening we had our first
fire
of the heating season. Up until now the
cottage
has been kept warm just from the passive solar gain that gets stored up so well in it's 100,000 lbs of masonry.
During the cold of winter wood from our land is our primary heat source. We burn about 3/4 cord of wood. We don't use electric, diesel (home heating oil) or other fossil fuels for heat although there is some heat coming off of the electric appliances, e.g., the refrigerator. Since our lights are LEDs we get very little heat there.
I trust wood more as a fuel since it is less likely to explode, I can grow and cut our own wood and since we grow our own the cost is minimal. Most of the firewood for our own house is dead wood we clean out from our forests, some tops from logging and logs from trail making and pasture making that are not good enough to sell as firewood.
What is amazing is that we burn so little wood despite the fact that we have not yet finished insulating the roof of the tiny cottage. The barrel vault has only two layers each a quarter inch thick of Foil-Bubble-Bubble-Foil on it covered by a tarp. Someday I plan to earth berm the cottage and at that point I'll add more insulation. Until then the FBBF is doing the job, which surprised me. Maybe I don't need the six inches of insulation I had originally planned to put up there on the roof.
Outdoors: 45°F/32°F Misty, 1/8″ Snow
Tiny Cottage: 69°F/63°F
Daily Spark: Texas is the closest I ever want to get to Hell. Washington, DC is halfway there from here but given my druthers I would go to Texas.