Looking North at Snow Frosted Sugar Mountain in Morning Light
Click for big view
We are within 1% of hitting the 10,000 comments mark on our
Sugar Mountain Farm
blog. Will you be that lucky person who leaves the 10,000th comment? Is there a prize? Well, not that I know of but who knows… What fun!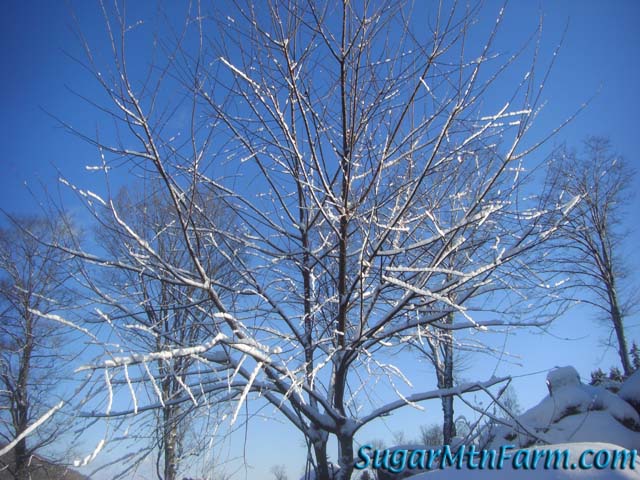 Snowed Cherry Tree
Over the past week the over one foot of
snow
we had dumped on us melted. Last night we got a new dose of the white stuff so things were looking pretty white this morning. We started the day inside a cloud but it quickly cleared to crystal blue skies.
I walked up the water road to check out things. The morning sunlight was just barely touching the top of Sugar Mountain. The ground under the snow was soft. This is common up here were we get early snows. Its good for water lines and plant life but bad for logging. The solution is to clear snow off of logging trails and then the ground freezes up hard there so that the equipment and dragging trunks don't damage the soil. During the cold season the trees are also not damaged as much by being bumped and their roots are protected by the hard ground and the snow pack. This makes winter a very good time to do sustainable logging.
Since it was an inside snow day for the early morning hours we finished installing the attic floor boards over the bathroom in our cottage. I put in the bathroom light and worked on a writing assignment. Will made spaghetti sauce and organized the spices. Ben and Hope stripped mint leaves for this year's tea. Cozy.
Factoid of the day: If the temperature is around freezing then the ratio of snow to rain is 10:1. If the temperature drops to 10°F then the snow is fluffier and the ratio rises to 15:1. Thus 1″ of rain is about one foot of snow.
Outdoors: 36°F/21°F Sunny, 4″ Snow over night, Windy in the morning
Tiny Cottage: 67°F/65°F
Daily Spark: Enjoy all your successes and learn from all your mistakes.