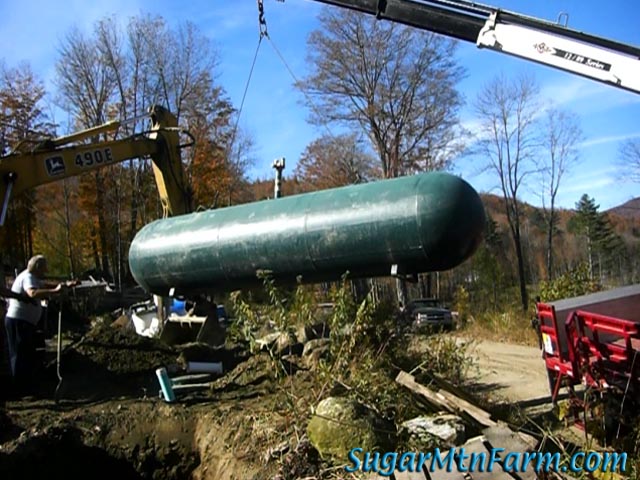 Propane Tank Arrival
While we were doing the septic tank and leach field we also installed a 1,000 gallon propane tank for hot water heating. It reminds me of
Little-Boy
.
I don't like propane. Badly installed propane in the old farm house gave me headaches. I've read all too many articles in the newspaper about homes, businesses and skating rinks exploding due to leaking propane. I prefer a nice safe fuel like wood.

However, propane is the fuel of choice for heating hot water according to our electric utility spokes person. He, I'd think, would have a vested interest in selling me more electric. But instead he convinced me to put in propane for the hot water heating, calling the heating of water a low grade use of electric.
One advantage of propane is there are some good backup generators that we can put in which run off of propane. When we have a chiller full of a ton of hanging pork carcasses it would be a shame to lose power. So a backup generator for our refrigeration system is high on my to-do list.
I considered an outdoor wood fired furnace but don't want to cut, haul and split that much wood. Our cottage uses consistently under 3/4 cord of wood a year. I like that. I get enough exercise.
Solar hot water is in the future but we need something now and solar is only useful as a preheater. We'll also do preheating off of our refrigeration system. Unfortunately that doesn't reliably get the temperature up to the 180°F we must shoot for.
Someday I'll generate my own electrical power and can use the excess for heating water but that project is a few years down the road. We've got other things to do right now. So propane it is.
There are some things I am implementing in the building to minimize the risk from this fuel. The propane usage is isolated from other valuable equipment in a concrete bunker. We have remote shut offs. There are heavy air drains. I'll put in alarms. I would like to make sure we don't have a boom-boom situation. Let sleeping bombs lie.
Outdoors: 35°F/20°F Sunny
Tiny Cottage: 65°F/61°F
Daily Spark:
How many activists does it take to change a light bulb?
Activists don't change light bulbs. They protest the darkness.