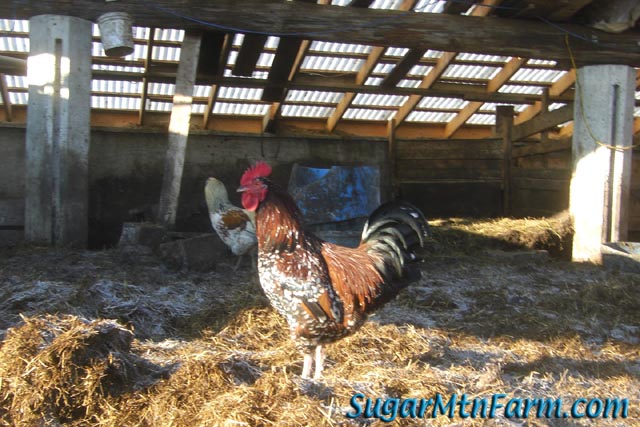 Rooster on Hay in South Field Shed Courtyard
This photo was from just before the recent dump of snow. We got a very hard frost with crystal clear skies that night and then blue sky clear the next morning. Two of the roosters who choose not to sleep in with the hens – losers that they are – were out strutting around on the hay in the south field shed. Why do I call them losers? No emotional issue, they simply lost out to the bigger more dominant Aracauna rooster who rules the hen roost. Simple fact of life.
I may move these two boys up with the ducks for the winter until they comes to dine with us. Or perhaps in with the weaner piglets – they get along well and that helps train the piglets to other animals.On the other hand, that may not be a good idea as the roosters are loud and the weaner areas would put them almost outside our bedroom window. It is enough to be woken at 3 am with them way out in the south field.
Both of these roosters are from this year's chicks. The whiter one in the background is a variant of the Araucana. I'm not sure what breed the near one is as he is not one of the rooster types I ordered. The hatchery often throws in some extra males in the order. Any ideas as to breed?
Outdoors: 47°F/29°F Sunny
Tiny Cottage: 70°F/65°F
Daily Spark: What's my biggest mistake… Hmm… It's so hard to pick and choose just one. I mean, why play favorites? People forget that making mistakes is part of learning, part of living. When I stop making mistakes it will probably mean I'm dead.