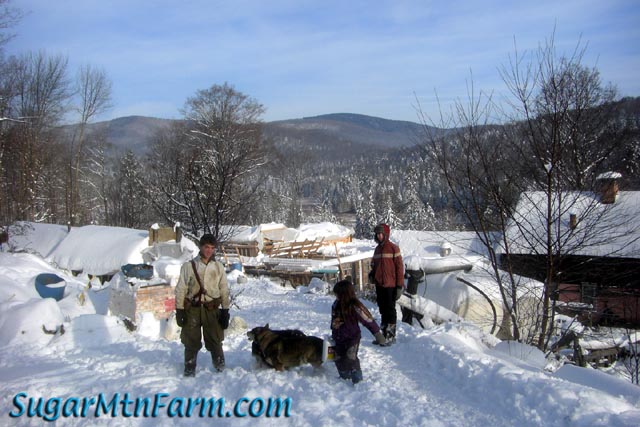 Will, Kavi, Sirus, Hope & Ben
We're snowed in. I'm hoping that Mother Nature will quickly melt all this white stuff.
Lovely Leftovers
We love leftovers. I don't get why some people diss them so much. Left overs have had more time to meld the spices. They're ever so easy to prepare. You can make so many things from them.
Will made this lovely meal from our Thanksgiving leftovers. It consists of pulled turkey, mashed potatoes and white turkey gravy, whole cranberry sauce, re-steamed carrots and cauliflower, apple sauce (not a left over) and Yorkshire pudding. The Yorkshire pudding is the biscuit looking thing at 12 O'clock. Rather than being made with the traditional beef drippings he made them with turkey drippings – delicious.
Outdoors: 46°F/28°F Sunny
Tiny Cottage: 69°F/67°F
Daily Spark: You're just jealous becouse the voices only talk to me. -Bumper Sticker