Sorting Sows South
The other day we
weaned
north home field piglets to the gardens. Then after a few days when the sows had dried up we moved the ladies to the south field. They were quite excited. They knew the boars were up there. As soon as they got near the driveway up to the field the ladies were a prancing and with tails a wagging in anticipation. Their hormones were already kicking in as they prepared to come into heat for their next breeding.
It takes about three days for the sows to dry up after weaning and then about four days after that they're back in heat. It is important to wean them before they get too nursed down or they lose body condition and health. Imagine having a dozen hungry mouths at you all the time. Natural weaning is a nice idea, if you only have one or two to feed, but with that many it doesn't work out. Because our livestock guardian dogs eat up the predators foolish enough to come in and scare off those wise enough to stay out the piglets have a much higher survival rate than they would in the wild. This means we must monitor the mothers and wean them before they get into using up their own body reserves.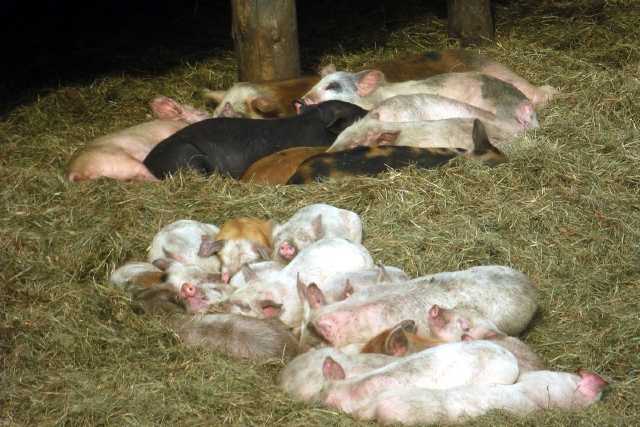 Weaners on Hay
The piglets mean while have transitioned beautifully to their new status as weaners. They are down in a big summer garden with a big bale of fresh hay where they'll be for about a month before moving on to the next space as shoats. They had already started to eat grass, hay and whey before their transition. They're also in a familiar group, a cohort, a sound of pigs they've known since birth. This makes the move easier.
Outdoors: 58°F/35°F Mostly Cloudy
Tiny Cottage: 68°F/67°F
Daily Spark: I'm just here to smell the coffee. -Me standing in the isle at the grocery