Will Grinding Rods
Now that the butcher shop walls and ceiling vaults of the reefer chiller, cutting room and kitchen are poured and curing we are working on clearing out unneeded forms and setting up for the second pour there as well as preparing the Administration area for it's wall and ceiling pour.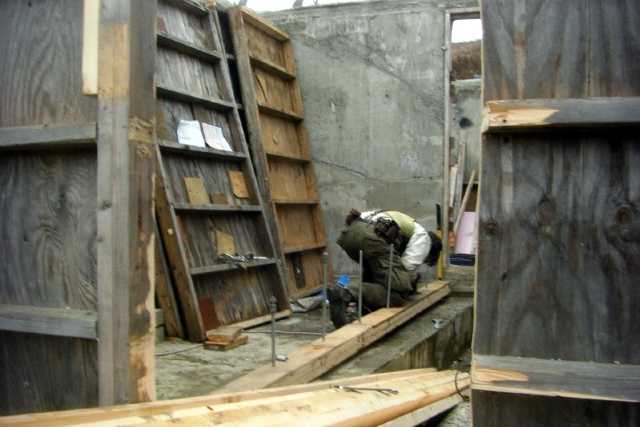 Looking in through the Front Door
Admin, as we refer that area to, is a 16'x16′ section at the entrance to our butcher shop. Into that small space are packed the inspector's office, bathroom with shower & laundry, mechanical room, storage closet, electrical room, clean entry for the processing areas and smokehouse. Think of it as one of those places where the inside is bigger than the outside. Oh, and there's a hallway in there too. See the
layout
on the butcher shop page.
The threaded rods Will is grinding down are part of an idea he came up with for how to make it easier to set the footers for the formwork inside the rooms. Nuts on the rods act as jacks allowing us to raise and lower the forms after the weight of the structure is on them. Mother of Necessity is a great teacher.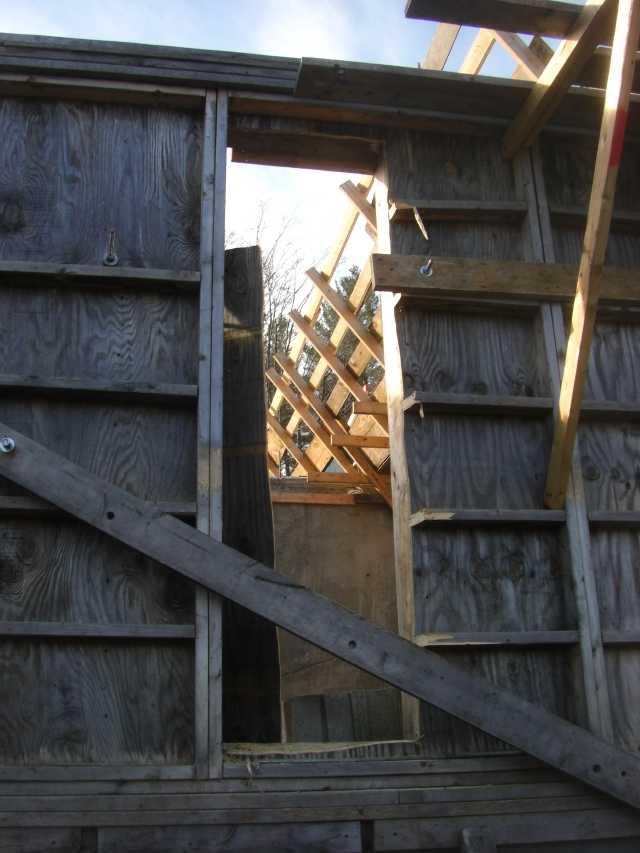 The Front Door Revealed
As part of this phase we opened the front door of the butcher shop. Up until now anyone driving by just saw a wall of forms. To bring things in we needed that door open so its time had come. It isn't a real door yet, just a sawn out hole in the form work.
Septic Tank
Another big achievement is we've got our septic in place. The leach field is all done, inspected and seeded over. The septic tank, shown above, is in place. Behind the tank you can see our
electric
which we got in a while back. Major steps.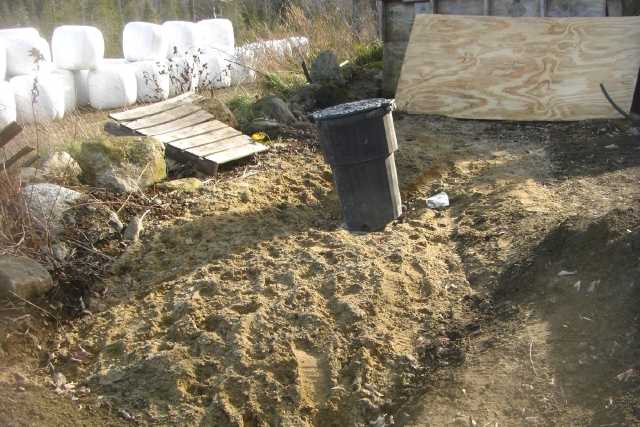 Propane Tank
At the same time as doing the septic tank burial we also put in the propane tank. I'm not a big fan of propane – it's a thing that goes boom in the night. But after a huge amount of dithering and research I finally bit the bullet and ordered propane service. It is a 1,000 gallon tank which will be large enough to get us through the winter – important as our mountain road can be challenging much of the year.
Our goal is to get everything ready to pour the first week of December. As always we keep pushing the construction season until the snows and winds of winter force us to stop. Once we can't pour concrete outside we'll switch to finishing off the interior. Wish warm weather thoughts on us so we can extend the construction season!
Outdoors: 56°F/20°F Sunny
Tiny Cottage: 68°F/66°F
Daily Spark: Psss… Buddy, wanna hot 100W incandescent light bulb? -Post 1/1/2012 Black Marketeer