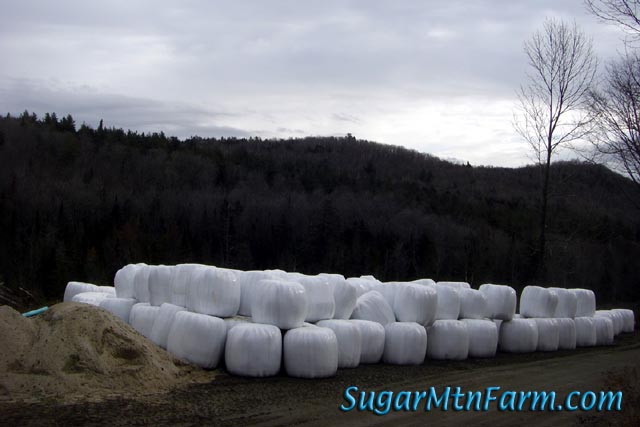 Marshmellows
200 Bales of Hay on the Landing,
200 Bales of Hay.
Take one down,
Feed it around,
199 Bales of Hay on the Landing…

In addition to those 200 bales we have another 100 coming from another farmer so this year I think we'll finally have enough hay. As our herds have grown it has been a continuing struggle to find enough good hay each year. Hay is important to get our livestock through the coming six months of winter. It is summer pastured stored for winter much like the vegetable canning, drying and cold storage we do for our family. By spring they will have eaten up virtually all of the hay we put out.
Pigs Eating Grass and Pooping it Out
There is a myth that pigs can't eat grass, hay or pasture. I just saw someone I respect actually write on her blog "
Pigs don't eat grass.
" She told people that farmers who are pasturing are misleading consumers into thinking pigs can eat grass. She
later
changed it to "
Pigs don't eat grass exclusively.
" but the damage is done. Her post title was the
Definitive Guide
but it is anything but that. Unfortunatly, she's also promoting a number of other myth-conceptions. Shame on her.
Reality check: Pigs Eat Grass! In fact, they thrive on it.
These confused people reason that because pigs are monogastric rather than ruminants the pigs are unable to digest grass. This is false. It just means pigs don't digest grass the way that cows do. There are many species that eat grass and even harder to digest cellulose (e.g., beavers). Some animals have four stomaches, some have two, some have one – There are many strategies. The fact is the pigs get a lot of food value out of grass.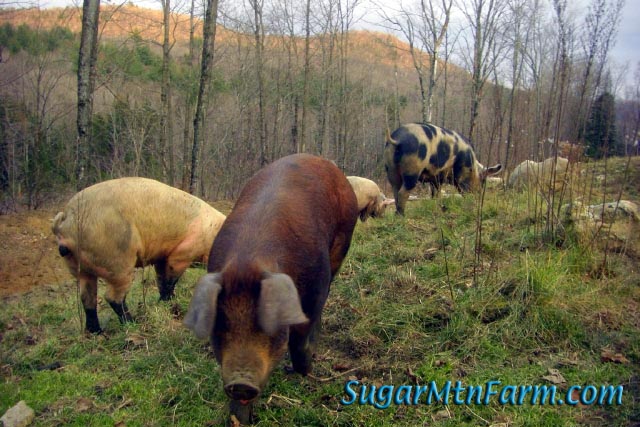 Tammy Worth coming over to check me out sitting in her paddock.
Additionally, pasture is not all grass – there are clovers, alfalfa, shrubs, young trees and a lot of other forages. Cows, sheep and goats don't just eat grass either. They too enjoy the above forages. In fact, sheep graze (ground) and browse (brush) while goats mostly browse (brush and trees). The reality is the pigs thrive on pasture as the majority of their diet and they can even do very well on just pasture/hay. They simply grow a little bit slower and are leaner than grain fed pigs. Pasture is lower in calories and lysine – a limiting amino-acid. We have raised several groups on only pasture/hay with no supplements, no grain, no commercial hog feeds. It works.
There are a lot of reasons why people are confused about monogastric animals eating grass. The first and foremost is that they presuppose that all pasture is grass. It isn't. Yes, you can plant a monocrop of just grass, a lawn like pasture, but the reality is that natural pastures are a wide variety of plant species. With intent you can improve this further mixing soft grasses with legumes, brassicas, small grains, amaranths, chicory and other forages. Next is the issue that when 'experts' calculate nutrition they do it from the point of view of dry grasses when what pigs like best are aged, fermented and composted items such as those they naturally gather. These processes make the fibrous foods more digestible just like in multi-stomached animals. The problem with how nutritionists calculate is that they're using too sharp a pencil and not understanding the real world, which is where the pastured pigs live.
Most of the time we also feed dairy which provides lysine and added calories. Dairy also makes the pork taste sweeter. We grow and feed pumpkins, other veggies, apples and recently we sometimes get boiled barley (high in fiber, protein and minerals) from a local brew pub. But these things are a small part of our pig's total diet. The fact remains, pigs do eat pasture, hay and grass and they can thrive on it.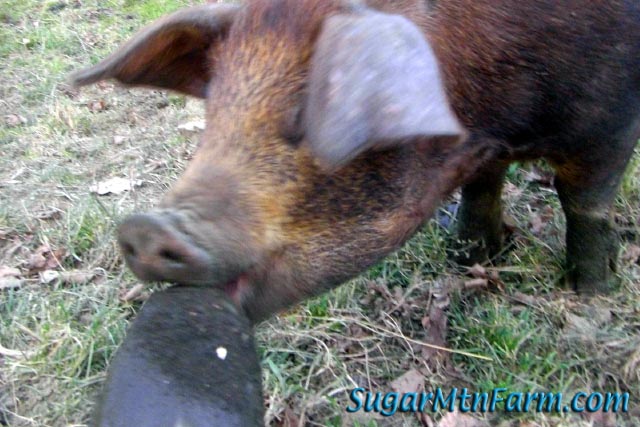 Hmm… My boot doesn't taste as good good as grass.
So what about the question of digestibility? Our pastured pigs really are out eating grass in the pastures and they do digest it. I know. I look at their manure both macroscopically and microscopically. I study their dung to know their health. I have taken the pigs apart and examined their entrails, looking at it in various places through their digestive track. It is very clear that the grass is being broken down and digested. Over the course of the summer our pigs mow the fields eating hundreds of thousands of pounds of grass, clover, alfalfa and other forages. Over the course of the winter they consume virtually all of the over 100,000 lbs of hay we put out each year. There is almost no 'waste' left in the spring for me to compost. It went through the pigs and the pigs grew.
The fact that the pigs thrive and grow is the final proof:
Pigs do eat grass.
Myth busted.
Outdoors: 40°F/22°F 1″ Snow in morning, Sunny
Tiny Cottage: 70°F/67°F
Daily Spark: The bleeding edge is where visionaries go to die.